On scorching summer afternoons, you see parents giving chilled juice bottles to kids as soon as they alight from the School bus. Only a few kids are lucky enough to get such minute parental attention as in most homes both parents are working. After School kids come home and serve the food themselves with the result most kids do not eat and drink on time. Drinking a lot of water is very important in the summer season, but due to tiredness and laziness kids will avoid drinking water.
Many kids suffer from stomachaches and they sometimes faint in the classrooms in summer. There is a general feeling of lethargy and sickness which may be the sign of not taking a lot of water to stay hydrated. A medical professional once told me to take a lot of seasonal fruits during the summer like watermelon, pomegranate and strawberry. Kids do not eat fruits unless given forcefully and parents do not have the time to persuade them. The healthiest and the easiest way to make the kids intake the fruits is to prepare juice and refrigerate them. When the kids return from school the first thing they will do is to open the refrigerator and have some cool homemade, refreshing summer drinks.
It is not true that kids do not like homemade food. Parents who cook regularly at home say their kids like homemade food. (Tip: understand your kids taste bud and cook accordingly.) The 5 summer drinks mentioned here are not as sweet and yummy as the packaged drinks, and you won't find them on menu cards, but once the kids develop a taste for these drinks they will drink it without any compulsion.
The summer drinks mentioned here are for people of all age groups and you can easily prepare them using ingredients that are regularly used at homes. Unlike the aerated, sugary, soda drinks, that just quenches the thirst these healthy summer drinks option also provide necessary vitamins to resist heat and diseases.
[plain]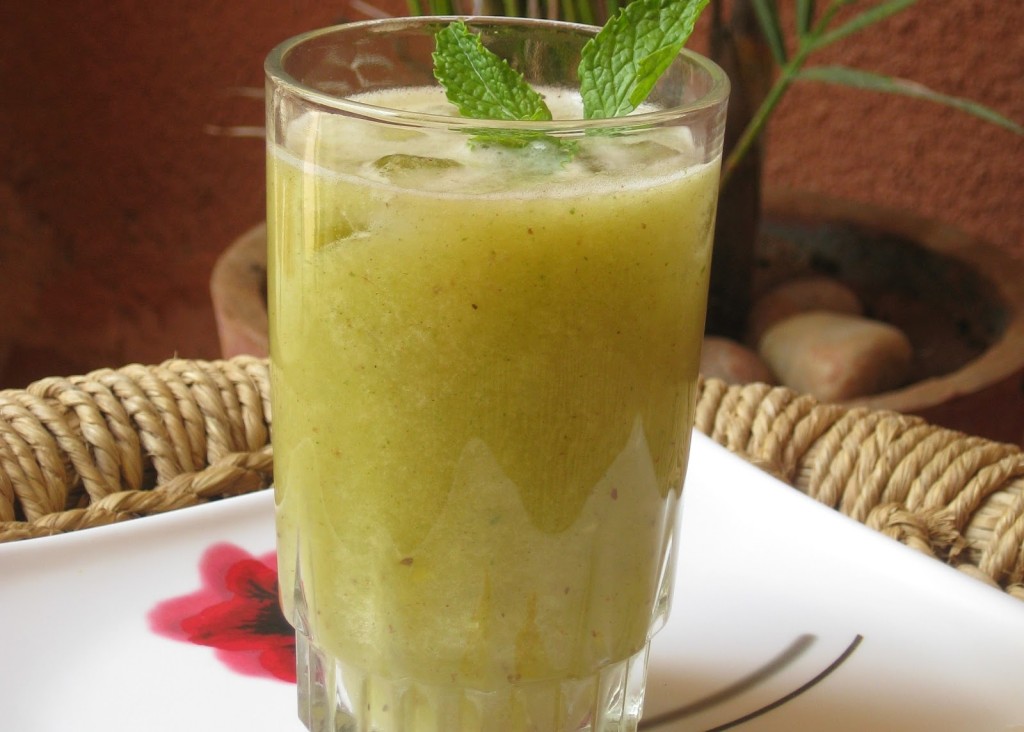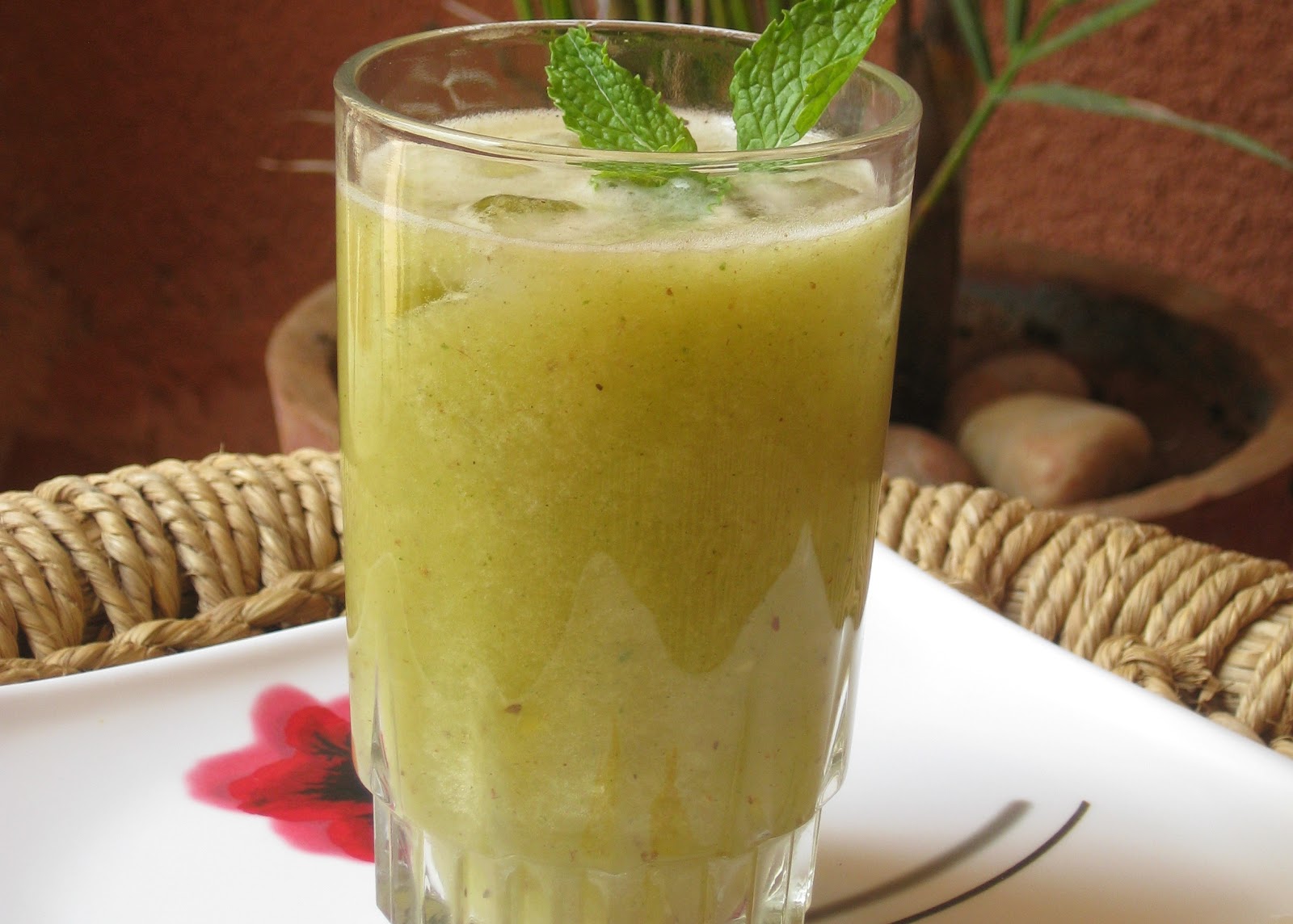 Raw Mango Juice (Aam Panna)
As a child, the only time I loved having aam panna was while travelling by train during summer vacations. My Mother carries the aam panna pulp in a small container and sugar in another. We, siblings, make friend with other kids while travelling together for two days. Mother prepares the juice and serves to all the kids. Aam panna in those moments were rejuvenating, soothing and enjoyable like never before.
<iframe width="560″ height="315″ src="https://www.youtube.com/embed/dyB6OsHyzh8″ frameborder="0″ allow="accelerometer; autoplay; encrypted-media; gyroscope; picture-in-picture" allowfullscreen></iframe>
Ingredients
Raw Mango – 1 Medium Size
Sugar/jaggery- As required
Cumin Seed – 1/4 tsp
Water – 2 cup
Method of preparation
Steam the mango in a pressure cooker/ steamer. Remove the peel on cooling and extract the pulp. Add the cumin seeds, sugar and two cups of water. Stir well. Pass the concoction through a strainer to remove the pulp. You will get a translucent juice.
Health Benefits
Resists heat; provides Vitamin C and anti-oxidants; prevents Dehydration, diarrhoea, Indigestion and Constipation; an effective solution for Diabetes; checks Anemia and Improves digestion.[/plain]
[plain]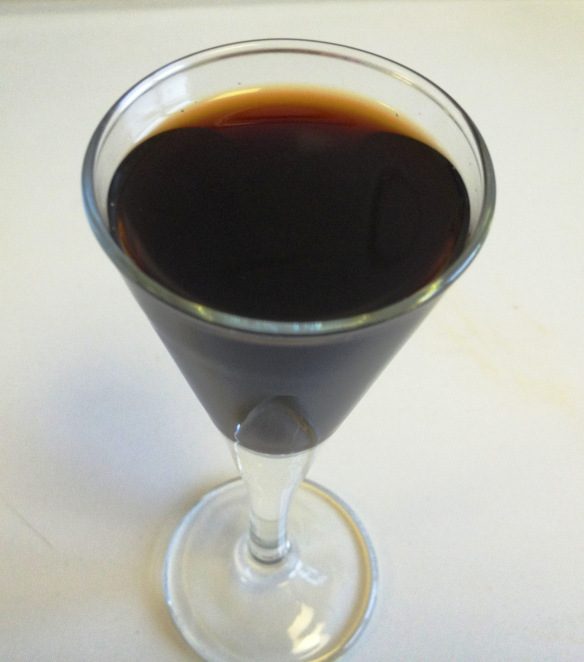 Gooseberry Extract (Nellikai Aristam)
Gooseberry has many medicinal properties hence the extract is known as aristam (medicinal wine). Gooseberry is prepared with jaggery so as to keep the percentage of alcohol low. Mother used to prepare Gooseberry liquor at home which is similar to the process of wine making except that yeast and sugar is not used. Gooseberry extract is the best resistance against heat and resists many diseases. In Ayurveda gooseberry is an essential ingredient for hair products due to its cooling effect.
Ingredients
Gooseberry – 1 Kg
Jaggery – 1 Kg
Cloves and Cardamom – Powdered
Method of preparation
Select fresh gooseberries, wash and dry them. Make small holes on the gooseberries with a fork. In a porcelain jar, place one layer of gooseberries followed by a layer of powdered jaggery. Finally, add the cinnamon and clove on top. Close the lid tightly, cover the lid with a cloth and keep it undisturbed for 2 months. By now the Juice is extracted. Squeeze and strain the juice and store it for more than a year in a cool, dry place. For kids, a spoon full of gooseberry extract diluted with water is highly refreshing for the whole body.
Health benefits
Gooseberry extract is rejuvenating and it is used as a remedy for jaundice, dyspepsia and cough.[/plain]
[plain]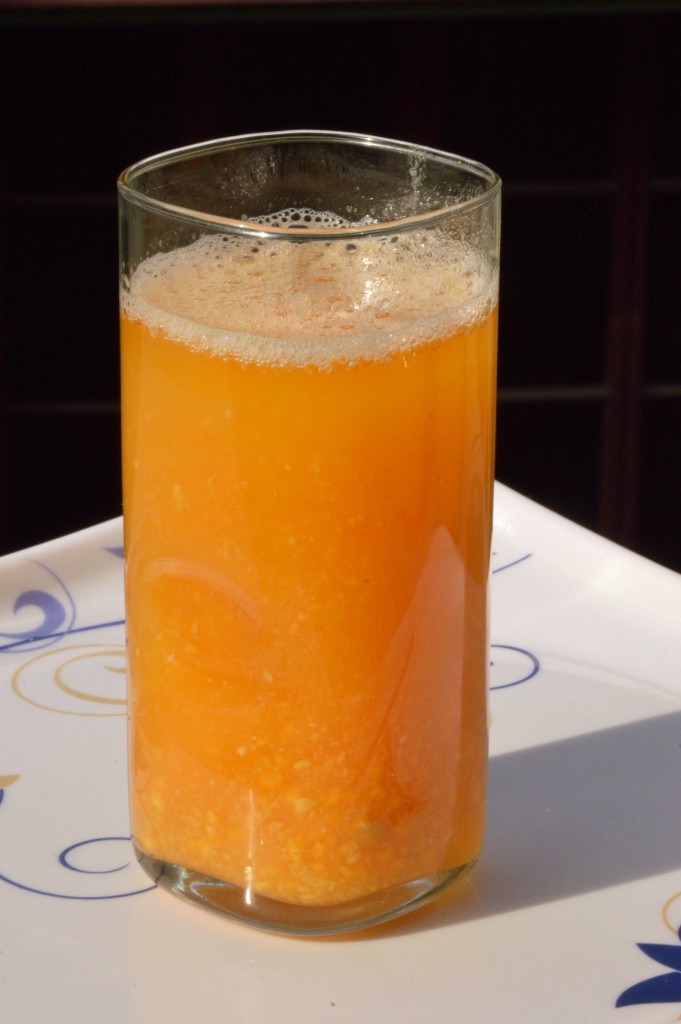 Stone apple (Bael) Juice
There was a bael tree in front of the temple near my home. In those days Bael was common, large fruits hang on the tree like Christmas hangings. When the fruit falls, the hard shell breaks and the yellow pulpy fruit inside is visible. Some passerby will take the fruit and have it. I did not know the value of the fruit until coming to Delhi, where you have to buy the fruit and juice. In the villages in North India Bael (Stone apple) is a holy fruit and the fruit juice is considered as an excellent heat resistor.
Ingredients
Bael / Wood Apple – 2 medium size
Jaggery – 2 tbsp
Salt – A pinch
Cumin Seed – 1 tsp
Water – 2 glasses
Method of preparation
Split the fruit using a pestle, and scoop the pulp. In a bowl, mash the pulp so as to soften the pulp and separate the seeds. Now add a glass of water and pass the juice through a strainer. If required add more water and press the pulp so that the juice is separated and only the fibre remains in the strainer. Add the rest of the ingredients – jaggery, salt and cumin seed to the juice. Blend it in a mixer and serve it.
Health benefits
The ripe fruit keeps the body and mind cool, cures acidity also. It helps to improve the digestive system and controls diabetes. [/plain]
[plain]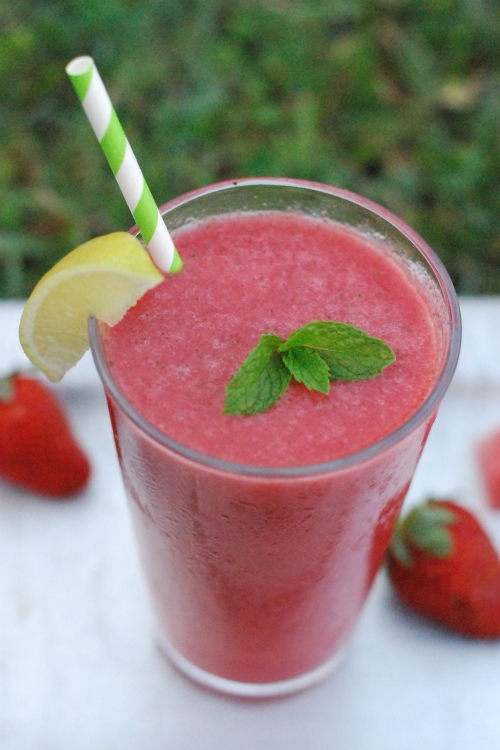 Watermelon Crush
Watermelon is sweet and watery so there is no need to add water. We can add some flavours to make the juice tastier and healthier.
Ingredients
Watermelon – 1 medium size
Sugar – 2 tbsp.
Mint leaf – 3 to 4 Nos.
Lemon juice – 2 tbsp.
Method of Preparation
Peel the watermelon and remove the seeds. Blend the chunks in a blender for a minute. Now add the sugar, mint leaf and lemon juice. Blend it again. Pour it directly into a serving glass and cover with a plastic sheet before refrigerating.
Health benefits
Watermelon consist of 90% water, hence the juice helps to stay hydrated and prevents heat stroke. The fibre in the fruit helps to maintain a healthy digestive tract. According to some studies, a glass of watermelon juice before an intense workout helps to reduce muscle soreness.[/plain]
[plain]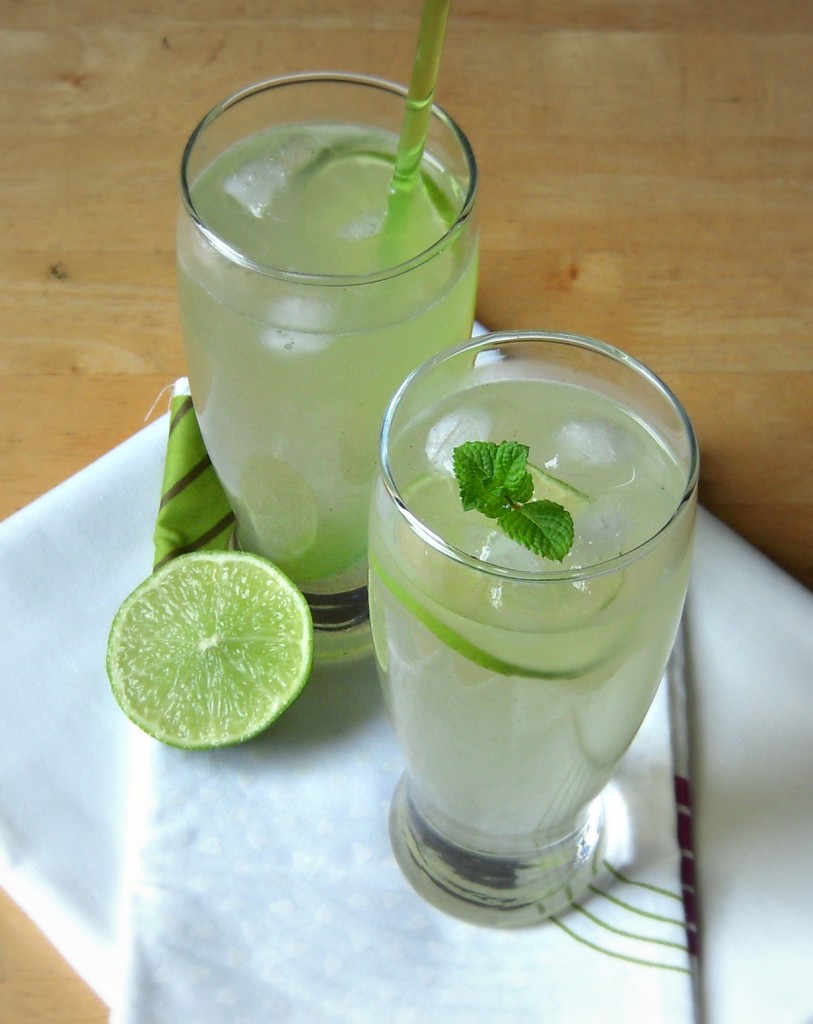 Lemon Juice
When you want to have some chilled summer drink, the first option that comes to mind is the soda lemon juice. Many small juice sellers become famous due to the twist they provide in the lemon drink. In my hometown, a juice seller got customer queuing up because of his famous lemon juice with ginger extract. Multifarious tweaks can be added to the lemon juice, here is the simple recipe that I prepare almost every day:
Ingredients
Lemon: 1/4 Cup
Sugar: 1/2 Cup
Water: 1 Cup
Salt: 1/4 tsp
Method of preparation
Mix the Lemon juice with sugar, salt and water and keep it in the refrigerator. Lemon juice will remain fresh for two to three days.
Health Benefits
Lemon juice helps you to stay calm and cool. It helps to improve the immune system, cleans the stomach and purifies the blood. Lemon is also useful in treating arthritis, rheumatism, obesity, constipation and dental problems.[/plain]