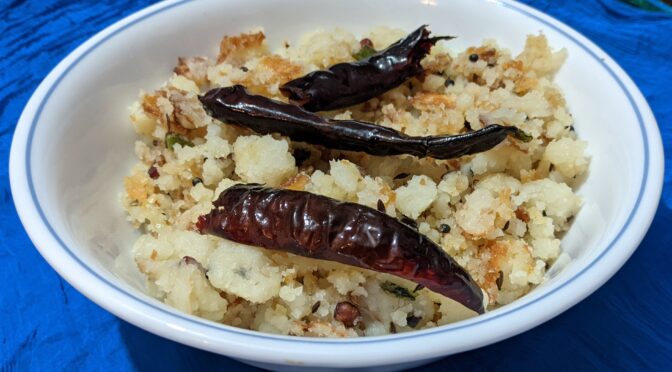 Rice Flour Upma: Inspired by Bigg Boss Malayalam season 3
I always wanted to do a quick rice flour, recipe for breakfast or snack time. However, with rice flour it is not that easy.
When Sajna Feroz, the Bigg Boss Malayalam Season 3 contestant said that Upma can be prepared from rice flour, the conversation caught my attention.
Rice Flour Upma conversation in Bigg Boss House
I think the talk happened during the captaincy of Noby Markose, towards the end of the week when there is an obvious ration shortage.
I tried two times earlier and I found that rice flour upma takes just under 15 minutes of cooking time. Also, you do not need an accompaniment, the upma is savoury and tasty on its own,

The cooking creativity of Sajna
That Sajna is a perfect homemaker and an excellent cook, she has proved many times in Bigg Boss Malayalam 3. This week Lalettan gifted her a prototype of the Ammikallu (traditional stone grinder) for her creativity is grinding coconut chutney with roti board and rolling pin.
Her creativity in cooking is a blessing in the Bigg Boss House, as whole rice and rice flour food seem to be a requisite, only next to oxygen for survival for most of the contestants. So, one day they had kanji (rice gruel for breakfast).
When I heard Sajan say that upma can be made from rice flour, that gave a spark. Ok, now I got a new quick recipe for the morning or four o'clock recipe. We can make upma with leftover puttu, on the contrary, preparing upma from raw rice flour is a different cooking technique.
I, therefore, searched for rice flour upma recipes on YouTube. But there were only very few. Besides, I do not know how Sajna prepared the Upma in Bigg Boss Malayalam 3.
So, after going through the few videos about preparing rice flour upma, I came out with my version of the recipe.
I am going to prepare this as a snack. I am going to have this rice flour upma with tea.
When you come from the office, with the tea you can prepare it. Hardly any ingredients. It is a very traditional recipe. I think it is very interesting. And in this fast-paced age, you can easily make this recipe at home.
Let me tell you the basic ingredients.
Ingredients
Rice flour – 1 Cup
Curd (not too sour) – 1 Cup
Ginger (chopped) – 1 tbsp
Green chillies (chopped) – 1 tbsp
For Tempering
Red Chili – 3 Nos (Red chilli is the main ingredient, that gives taste to the Upma.)
Curry leaves – As required
Cumin Seeds – 1 tbsp
Spilt Chickpea – 1 tbsp
Peanuts (Optional) – 2 tbsp
Method
Firstly, put the rice flour in a bowl. Then add half of the curd and mix with hand. When the flour and curd are mixed, pour the rest of the curd. Here, I am adding few drops of water as the curd is a little, too thick. However, you can avoid adding the water if the batter has reached a thick pouring consistency.
Secondly, add some oil in the wok, followed by spluttering some mustard. Then add Cumin seeds and split chickpea. At this time, you can add peanuts also. Now add the main ingredient for taste, the red chilli.
When the above ingredients turn crispy, add the ginger, green chilli and salt. When raw taste of the ginger is gone, then add the rice flour and curd mix.
Close and cook for 5 minutes. So that it cooks and the water evaporates.
After 5 minutes, open the lid and check the texture of the upma. The upma has turned crispy, salty, sour and tasty. That makes the upma a perfect one-pot recipe for breakfast or snack time.
The cooking process is over now.
Rice flour upma is an unexplored field in YouTube Food Blogging. It is a very traditional item, known as Udhiri Upma in Tamil. I wish more people try and put videos on Rice flour upma.