SUSTAINABLE LIVING
In the first place, what is Sustainable Living? A sustainable lifestyle is when we tune our lifestyle in such a way that when we live the world, our grandchildren and the coming generations will have enough of the environment and the flora and fauna for them to live a satisfying life.
Sustainable development means different things to different people. There are around 386 definitions of sustainable development. In this page, we'll discuss every kind of sustainable option that you can think. We have several posts on sustainable living. In fact all the post gives ideas for everyone to find a sustainable lifestyle for themselves.
Sustainable living and Sustainable lifestyle
To adapt to a sustainable lifestyle; we can start one thing at a time and accustom ourselves to a Sustainable Living. Many institutions, countries and towns are now using solar power for electricity. We shared a post many years ago of a hospital using Solar Power Plant to reduce Electricity Bill. Interestingly, In UAE there is a city wholely sustainable on solar power and so is the Kochi Airport in Kerala.
And almost every year we share a post about how to Celebrate eco -friendly holi with toxic-free holi colours. Here is an interesting campaign by a company to reduce wastage of drinking water. 5 ways for #CuttingPaani usage at home
Chiefly by Looking at the worldwide trend; sustainable living finds more search compared to a sustainable lifestyle. Likewise both terms do not seem to be popular search terms. In the United Arab Emirates, there is some search for the terms Sustainable Living and no search for Sustainable Lifestyle.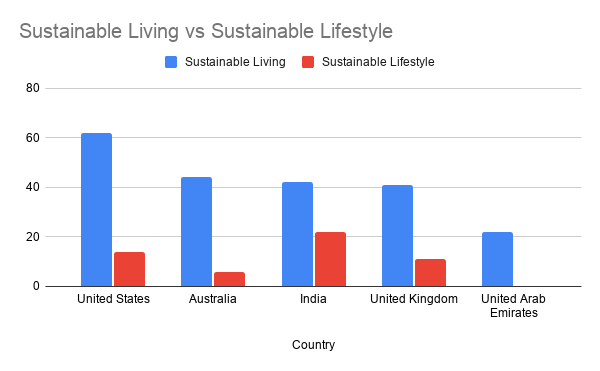 Sustainable Fashion
The fashion industry is said to be the second-largest polluters in the world. While fast fashion is affordable, comfortable and trendy, sustainable fashion is fast catching up.
However, the whooping price range and the limited choices put a challenge for the fashion designers. We talked to two Sustainable Fashion Entrepreneurs in India. Both the women entrepreneurs gave insightful replies on queries regarding sustainable fashion.
Given below is a graph made using google trends about whether Sustainable Fashion or Fast Fashion was the popularly searched term in India. The diagram shows that fast fashion was slightly more popular term in Gujarat and Tamil Nadu than Sustainable Fashion.
On the other hand, in Delhi, Karnataka, Maharashtra and Uttar Pradesh Sustainable Fashion was the more popular term. Interestingly in Haryana, Punjab, Telangana and Kerala Sustainable Fashion was the cent per popular term.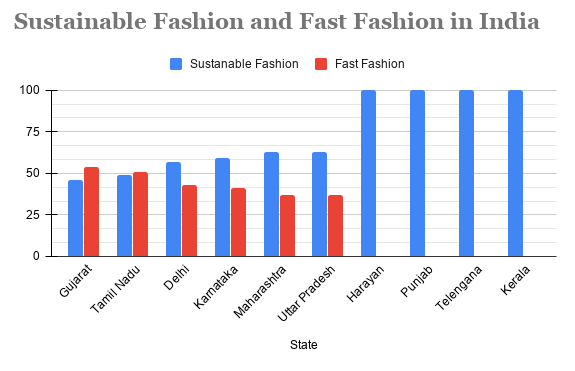 Sustainable Chocolate Manufacturing in India
Be it coffee or cocoa; there is a growing awareness among the people about whether the plantation was sustainable. We had an interview with the first Sustainable Chocolatier couple in India, who ensure that from the planting of the cocoa to the packaging of the chocolate bars, each process is sustainable.
In google trends, Organic Chocolate was a highly popular search term, compared to Regular Chocolate, in the United States, United Kingdom and India. Besides, Australia had a cent per cent popular search for Organic Chocolate.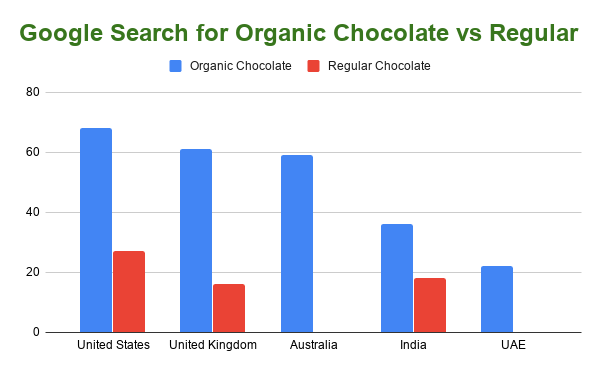 Sustainable Agriculture and Organic Farming
Whether organic farming qualifies as sustainable agriculture method is being debated and discussed the world over. For a farming method to be truly sustainable, there are several criteria to fulfil.
The food miles and energy efficiency are some of the essential factors to determine whether a farming method is sustainable. Is a comprehensive Sustainable Agriculture method a possibility? We can have many posts on this topic in the coming day. For now, we have a post on terrace farming in a town by an ex–serviceman.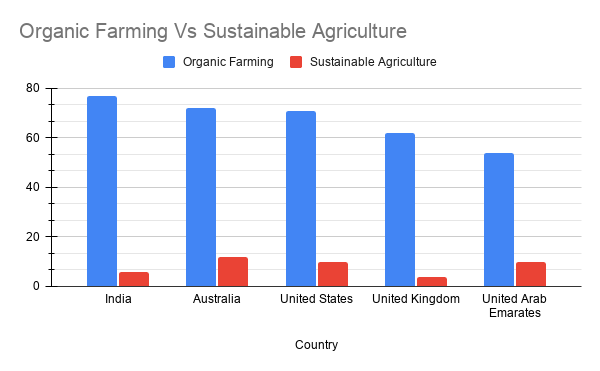 Data Visualisation of Sustainable Trends
Here we are presenting a data visualisation of all the sustainable trends graphs represented in this post. Hence, in the visualisation, all data represent two or three varying forms of repersentation so that you get an idea about how people are thinking and searching for terms related to sustainability.
What you thing you search. Moreover Most of the data is about the USA, UK, UAE, Australia and India. But sustainable fashion data is specific to India. In future we will be bringing is more data and discussion about sustainability.
Sustainable Living Quiz
---