Dr Bindeshwar Pathak Passes Away at 80
Read Time:
1 Minute, 20 Second
Dr Bindeshwar Pathak, who founded the Sulabh International and One of the weirdest museums in the world, the toilet museum, passes away on August 15th. He started is lifelong activity by working for the emancipation of scavengers, after participating in Gandhian Centenary celebration. By his relentless hardwork he liberated many in the scavenging community from their drudgery.
When I came to know of the 'toilet Museum' in Delhi, I visited this third weirdest museum in the world. Dr Bindeshwar Pathak was not present at the institution, but he staff was very cooperative in sharing a wealth of information not just about the toilet museum, but also about a range of other activities like the affordable toilets, recycling of the defecation and the works among the scavenger community. Over 1,20,000 liberated from scavenging.
Dr Bindeshwar Pathak understands the importance of communication. Therefore, He readily participated in interviews with youtubers who visited his institution. When I sent him the link of my blog about the 'toilet museum', he emailed a letter which was one of the first letters of Encouragement for Lifestyle Today News.
The communication and association continued, with an invitation to the World Toilet Day celebration in 2015, inaugurated by Actor and BJP MP, Hema Malini.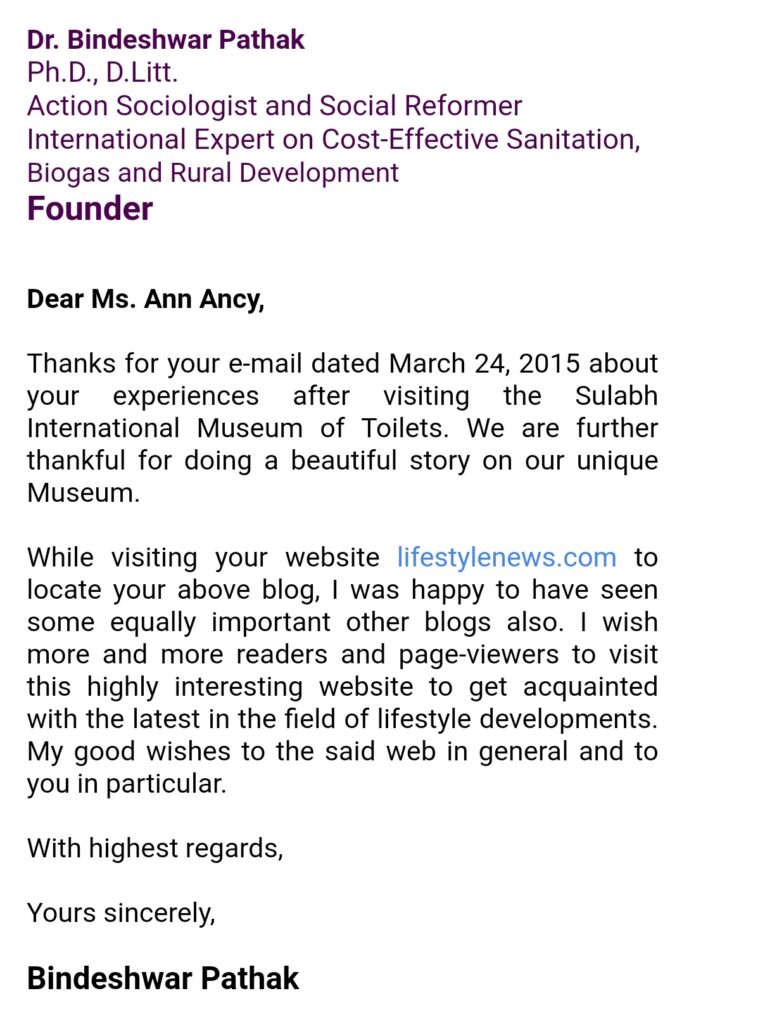 He died on the Independence day of India after hoisting the Flag. A great entrepreneur, social worker and and activist that he was, he passed away after flying aloft the flag India on Independence Day. May his good works be continue by his followers, providing independence from scavenging and ensuring closed toilets for all.

Blogger, Nature Lover and Cooking Enthusiast. Worked as Magazine Assistant Editor for Consumer Magazine. Presently writing about lifestyle topics related to health, food, shopping, fashion and people for Lifestyle Today News for the past 6 years. Also, UN Volunteer, working as Editor in Chief for Weekly World Climate Change News. Passionate about Climate Change activities. Nominated to attend COP26, Glasgow and COP27 Sharm-el Sheikh as Observer.
0
0