Dr bindeshwar pathak: fulfilling the dream of Gandhi
"My name is Usha Chaumar, I am from Alwar, Rajasthan…………." Usha speaks confidently in English to a jam packed audience at Constitution Club, Delhi, on World Toilet Day. This is a transformed Usha! A decade back she used to clean septic tank from a very young age. Belonging to the scavenger community,things were no different when she was married off at the age of 10…………. until she met Baba in 2003. Baba had adopted Alwar to help the scavengers restore their dignity and human values. One day Baba asked Usha if she would like to take up a better job, 'who doesn't like to get a better job opportunity' she says. She was not only brought out of the de humanising activity of scavenging, but she was also taught skills for livelihood like beautician training, making noodles, pickles etc. Along with her many other scavenger women were also emancipated from their misery. She says she did not know how to speak politely. Whatever she is today is because of Baba.
The Baba who saved Usha's life is Dr. Bindeshwar Pathak, the Founder of Sulabh International, who takes forward the dream of Gandhiji to uplift the Scavenger community to the mainstream of the society. Dr Bindeshwar created a two-pit, maintenance free, toilet which which can be easily customised and set up in any geographical environment. His innovation liberates the Scavengers and changed their life forever. The work of a human scavenger is to remove human waste, using a brush, into a bamboo basket and carry it on the head to be thrown at a secluded place. Dr Pathak's toilets meant that the toilets no longer required to be maintained, leaving the Scavengers free to take up other occupations.
Dr Pathak was born in a Brahmin family in Bihar. When he was 14 his family's fortune incurred huge financial loss after his uncle was murdered. As a young English Graduate he tried many jobs. His destiny to help scavengers was set when he participated in Gandhi Centenary Celebration where he was assigned the task to find a solution for open defecation and to find an alternative to end human scavenging. He went and stayed with the scavenger community to get a first hand knowledge of their life. There he saw a young bride cry because she was asked to clean her in-laws toilet and he saw a scavenger boy die on the road because no one came forward to help him. Dr Pathak created the toilet because he wanted to free the scavenger from their misery. His invention is now a world recognized model.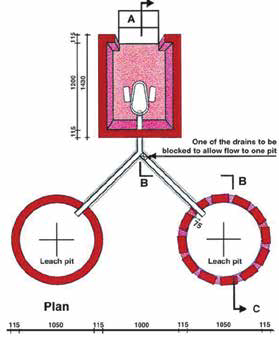 Initially Dr Pathak tried for a long to promote his creation to Government organisations, but no one was ready to give him a n opportunity. Finally a Municipal Officer gave him an opportunity to build two public toilets for Rs 500. And as the toilets became popular, people starting paying to use public toilets. The usefulness of Sulabh toilets spread far and wide and outside India. Now Dr Pathak is the Founder of Sulabh International which has over 50,000 associates working with him.
To date Sulabh International has built 1.3 billion toilets, liberating more than 1,20,000 scavengers from scavenging. The scavenger have been rehabilitated. 640 towns have been made scavenging free till date. When Dr Pathak was told that steps should be taken to maintain the toilets because after one year many toilets become unusable, Dr Pathak replied that if people treat the toilets as their own child and keep them clean and hygiene, then no one else has to take care of the maintenance. The success of his model created a huge behavioural change when people started paying for the use of public toilets. Then, it brought in a cultural shift too when people started socially accepting those who once were meant for carrying the human waste. In places like Alwar the scavenging community has been rehabilitated and the upper class invite them to their homes. Usha says that during her scavenging days no one offered her water and even if someone did, they gave the water from a distance.
Dr Bindeshwar Pathak's work is popular among the scavengers and the poor. His work has been recognized by the UN, which uses his two-pit toilet as a model for building toilets globally. Recently the BBC Horizons has declared the Sulabh technologies as one of five unique inventions of the world.
Dr Pathak is known for the high level of professionalism in achieving his targets. He has a systematic way of surveying the place,estimating the cost and building the toilets. According to Dr Pathak an estimated Rs 25000 to Rs 30000 is required to built a toilet. Due to the high quality of work, Corporates are willing to fulfill their CSR (Corporate Social Responsibility) by associating with Dr Pathak.
There are two types of people in the world, the one who use toilets and one who are deprived of using toilets. Dr. Bindeshwar Pathak is a Messiah of the one who do not have toilets. Imagine a situation when you do not have a toilet in your house, and you have to defecat in the open. In such a situation you will have to wake up either before day break or wait for sunset so as to answer the call of nature. In such a situation you will be unable to concentrate on you work and because of stopping yourself from defecating will cause many health diseases. 100 million Indians defecate in the open leaving them behind in the strive for development. They defecate in the open leading to many social, health and environmental issue.
Says Amritya Sen in an interview to the Guardian, "Half of all Indians have no toilet. In Delhi when you build a new condominium there are lots of planning requirements but none relating to the servants having toilets. It's a combination of class, caste and gender discrimination. It's absolutely shocking. Poor people have to use their ingenuity and for women that can mean only being able to relieve themselves after dark with all the safety issues that entails,"
Dr Bindeshwar Pathak is a strong advocate of one the biggest issues that Gandhiji was fighting for. He continues work to accomplish the dream of Gandhi. The two pit toilet has created a social revolution with the twin benefit of the people getting a toilet to defecate and the human scavengers being liberated of their penury. In addition Dr Pathak also provides shelters for the widows of Varanasi. Sulabh International celebrates important festivals like Diwali, Holi and Christmas, giving the widows a news sense of being. There are a number of works of Dr Pathak that benefits the entire humanity. He has perfected the Biogass system, by which the gas emitted from the human waste is a alternative source of energy which is used to generate heat, electricity and cooking gas. The water discharge from the waste is treated and can be used as fertilizer or discharged into the river.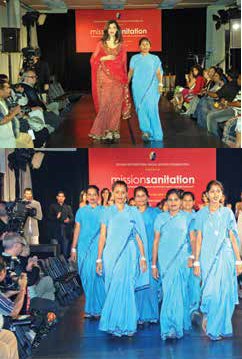 [plain]Award and Achievements of Dr Bindeshwar Pathak
In 1991, Dr. Pathak was awarded Padma Bhushan
Conferred St. Francis Prize Canticle of All Creatures in Assissi, Italy.
Stockholm Water Prize by Stockholm International Water Institute at Stockholm, Sweden.
Selected among 50 global personalities, including The US President, Barack Obama, "who have used their position in public life to make an impact on diversity".
BBC Horizons declared the Sulabh technologies as one of five unique inventions of the world.
1.3 million housing toilet built so far.
More than 1,20,000 scavengers have been liberated from scavenging.
8000 public toilets in 25 states and 4 Union Territories in 1599 towns and cities which are used by 15

million people daily.

In Kabul, Sulabh is maintaining five public toilets with biogas plants, which are quite

popular with the local people, and Sulabh's inventions, innovations and experiments have been

accepted in China, Bangladesh, Vietnam and many countries of Asia, Africa and Latin America.

Entering a temple – a dream fulfilled on December, 21, 2008 of scavengers (untouchables) whose entry

was banned for centuries due to the practice of untouchability.

2003, adopted two towns of Rajasthan, Alwar and Tonk, for restoring the human
rights and dignity of the local untouchables. Now the two towns are free from the
problem of untouchability. There is no social discrimination, as Brahmins and other
upper castes now freely mix and share food and hospitality with the ex-untouchables
who have acquired skills in various trades, and are engaged in gainful employment. They
have started a new life and are now part of the social mainstream.
Set up Sulabh International Museum of Toilets in New Delhi, the first of its kind
in the world. The museum, through replicas of various toilets, artefacts, pictures, posters
and other materials, tells the story of the development of toilets through the ages.[/plain]