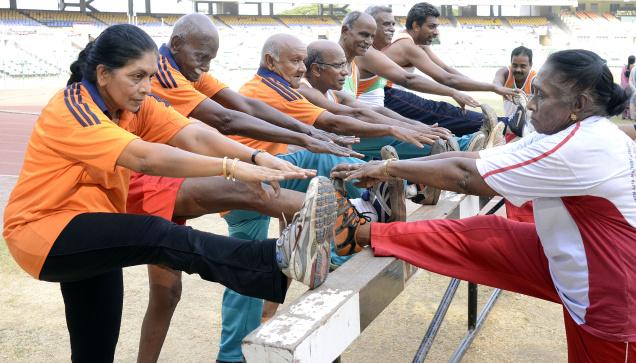 At 83, she is preparing for her next veterans athletics meet
When professional sportsmen hang their boot at 40, Daisy Victor began participating in athletic events when she was just a few days shy of her 50th birthday. "I am only 83 years old," says Daisy who runs and exercises every day in the ground near her house in Madhavaram, Chennai, and she also hits the Gym for Fitness twice a week. She also practices long jump at the Nehru stadium every week. In National and International Veterans athletics Meets so far she has won 377 medals from 104 meets. She won 46 golds from 22 internationals meets and 96 golds from 33 national events.
Daisy, a former employee of BSNL in Chennai, and a mother of 6 children took up athletics seriously in 1981 when she participated in the World Veterans Athletics Meet in Christchurch, Newzeland. Her biggest moment was when on her return from the event, she was introduced to Prime Minister Indira Gandhi by the Flying Sikh Milkha Singh.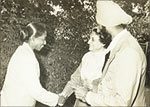 Daisy's indomitable spirit has inspired the youngsters, including her 13 grandchildren who are proud of their grandmother's achievements. During summer vacations, boys and girls come to her to get coached for athletics. Schools and Colleges invite her to inspire the youth to make sports and exercise a part of their lifestyle.
The secret of her Success
"All my achievements is because of the Grace of God. He gave me the strength and talent to run," says Daisy who wakes up at 5 in the morning and begins the day with prayer along with her husband Victor Sundararaj.
"Though women are physically active throughout the day with household activities, they need to do exercise every day for their necks, hands, legs, etc," says Daisy who began running and winning as a school girl in Bellary. It was her father, who was a sportsman, encouraged her to participate in athletic events.
When asked what the elderly must do to be physically fit she said "They must do physical exercise and walk at least 15 minutes every day. The should not be walking leisurely but brisk walk". Read this post to know more about the advantages of brisk walking.
She says people should follow a strict diet and a strict routine to remain healthy and fit. She takes very little rice, consumes a lot of vegetables and avoids snacks and tea as much a possible.
Her running and exercise have kept her away from certain hereditary lifestyle diseases. Says her son Stephen, "When she was 75, she argued with a doctor who said she was diabetic. She said since she is physically fit she should not be diabetic. But the doctor told her in her family diabetic begins at 35 years of age, so she should consider herself lucky as she could keep the disease away for 40 years."
When most people struggle to walk a few miles at this age, Daisy travels every day by bus and she talks to people, inspiring them with her own testimony of determination and complete faith in God.