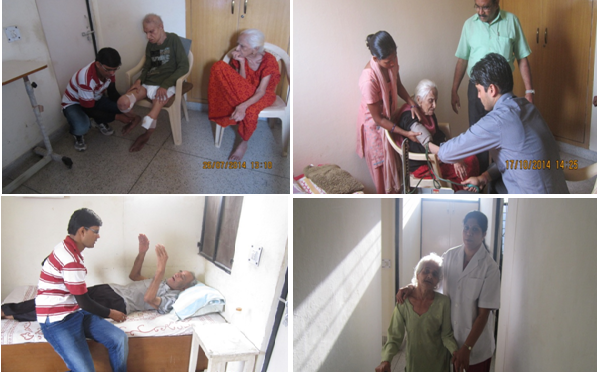 Read Time:
6 Minute, 5 Second
The population of the elderly is increasing, and so is the number of Old Age Homes. Recently I met Stanley Johnson who runs John's Daycare and Boarding for Senior Citizens, where elders stay, who suffer from various Geriatric ailments. On a holiday I decided to visit John's Home, in Aya Nagar, Delhi, to know more about how an old age home works and to meet the elderly. I visited the home with my family, assuming that the kids will have a new experience rather than visiting some tourist destinations.
In the lush green lawns, of the quiet haven, of John's Senior Citizens Home, the elderly Aunts and Uncles were sitting on the benches and enjoying the cool breeze and evening sunlight. Inside the home, there was pin drop silence, and a handsome Uncle was sitting in the reception, busily scribbling something in a note book.
Mr. Stanley said that the Uncle got mentally disturbed after he suffered a huge loss in business. After coming to John's Old Age Home he was put on medication, and now he has recovered. He does not speak much but reads voraciously, and he is also the library in-charge.
Apart from the neatly and hygienically kept rooms, which are provided to the elders, there are also common recreation and dining areas. The clean and odorless surrounding of the Old Age Home is different from the rooms of elderly at our homes, which will usually smell of medicines and human waste. "The ultimate goal of our institution", says Mr. Stanley, "is to ensure that the elders who are with us are happy and live with dignity in a safe clean environment."
Stanley says that the care required by the elderly are of three different types: Some are fully depended so they require complete assistance in all their activities (Dependent Ageing), some are partially depended (Assisted Ageing) and other can manage their daily routines on their own (Active Ageing). "Some normal problems of the elders are loneliness due to loss of the spouse, weak eye sight, disability in walking and another movement, self-denial, loss of Memory, paralysis, Dementia, Alzheimer, Parkinson, Blood Pressure, Diabetic, Cardiac problems and Bed sores."
We met some of the elders, and the aunties talked more and socialized. Some of them were wealthy, some abandoned and others suffered cruelty and treachery from their relatives. Because of their willingness to talk and share their feelings, I made a video which is shared below.
The elders are given round the clock individual attention by care givers, Nursing Staff, Supervisors etc. every senior is served in a different manner as per the need of the inmate, For Eg: Arthritics patient is dealt in the softest manner of lifting and placing for food /toilet habits.   Many of the elders here are affected by dementia, Alzheimer's,  partially paralyzed, physically handicapped,  completely bedridden or suffering from loss of memory, sight and with a negative attitude to the life.
Dementia or Alzheimer's require full-time nursing as the patients lose their memory and they are to be treated like new born babies. The care takers require a lot of patience and training to attend to an Alzheimer patients needs. John's Home is known for the care they give to such patients.  A 78-year-old Aunty, a Keralite, who is there for the past eight years, thinks that she has come there only a few days ago. She claims she is from a Royal family in Kerala.  Stanley says "There was a mentally imbalanced upset aunty who now gets an audience to hear her sad stories and sings beautifully for the school children who visit her often".
The Nonagenarian, Aunty, stole our heart. She is 99 and will be celebrating her 100th Birthday very soon. She is a vivacious and elegant lady who was a teacher in Nainital and Dehradun in her hey days. She is never satisfied with the care she receives/received anywhere, and she demands more care. Care for here means – someone to listen to her endlessly. She is been at Johns home for the past many months and surely enjoys her stay there. At the ripe old age, she was punctually out in the lawn after tea for her evening walk, accompanied by her attendee.
Stanley says "Once there was an unhappy Grand Father who doubted and complained about everyone in his own home.  He was made the Supervisor of the floor and he had no complaints as he saw himself as a captain and is very happy and felt that this home was better placed than his previous home".
The vision of John's home is to ensure that the solace provided by them helps every elder staying at the home forget their past sorrows and live joyfully with a smiling face. Their future goal is to have their own home along with a Geriatric division giving Age care facilities to accommodate at least hundred Senior citizens.
"At John's, we have been constantly working as a team on spreading awareness about the need to uplift senior citizens and help them thru their disabilities as age catches by and thus working on the human cause of uplifting social awareness. Taking our endeavors forward, this year we have crossed boundaries, serving the society is great Pleasure. Our life is incomplete till we add meaning to it."
John's Old Age Home provides social services to the community, especially the underprivileged by organizing medical camps in coordination with different hospitals at our center on timely intervals.
When asked why and how your team decided for serving the Seniors he explained that amongst our members there was a feeling that we could have done much more for our parents who have left this universe and that prompted us to do something and dedicate our remaining time, energy and money for caring for elders. The similar kind of feeling is shared by every child with aging parents – even after taking care of them at home, or give them complete medical attention, after their death, children ask the same question 'Did I do as much as I should have done'. Whatever may be the reason for being sent to such homes, Old age homes like John's Home provide complete care, attention, and love, which gives happiness to the elders in their old age.
[plain]Mission of John's Old Age Home
Encourage each and every one to share and gain!
Generating awareness for a disease free society is our moral and ethical responsibility.
We always tend to impart education on preventive aspects of healthcare along with suggestive measures to build a healthy environment leading to a healthy society.
Our work is a way of telling the people among whom we operate that we care. Responsibility towards our community remains an integral part of most of our endeavors.[/plain]
[plain]How can We help in the care of the Elderly?
As a Coherent community let us bring about the cultural leap of helping people. Helping someone is equivalent to praying to God.
Let us all come together to help and support people for their better and healthy life.
Everybody should be as encouraged to volunteer their time and skills and enjoy the experience of giving back to the community in which they work.[/plain]