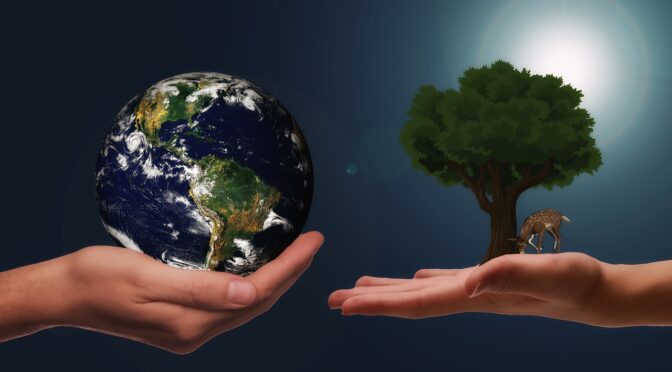 How to save for posterity?
Read Time:
3 Minute, 53 Second
In the 21st century, when predominantly nuclear family prevails, there is a rising tendency among parents asking why to save for posterity. We earn and we burn, why save for the posterity?
Rise of Nuclear families
Yes, you are right; we were born in nuclear families, with just enough to eat, wear and enjoy a little bit. Also, our parents managed to give us a good education.
And on that firm footing, we built a career and became financially secure. We bought one or two houses, one or two cars, saved for the children's higher education and have a decent bank balance.
Does that mean that we secured our children's future and we did enough for the posterity? No, we haven't?
Being in the '40s and my parents in their 70's, what my parents did to secure my future was right. But I being in the '40s and my children in their teens, I need to think of a few more criteria to secure the future of my posterity.
Carbon footprints and food miles
I have to think in terms of Carbon footprints and food miles; also about Sustainable clothing and Sustainable farming. To secure my children's future I need to give them not just a decent education, but also handover a liveable planet to them.

Large families and joint families of yesteryears
My parents grew up in large families with many siblings. They were well to do families with land holdings. They had enough to fill eat but not to splurge. Things were like the first come first basis. The fittest could survive. The smartest and the strongest get the lion share. It was the duty of the mother to ensure that every member of the family got their proper share of food and clothing.
The first generation nuclear families
However, when my parents began a family, a nuclear one, they wanted to give the kids every happiness in life. They gave the kids the best food and clothing. As they were conditioned in childhood to share with others and eat home-cooked food, they never took any interest in the processed food available in the market. But they bought readymade chocolates, cookies and chips for their kids. And thus we were conditioned on plentiful.
Pampered kids of today
Being conditioned in the plentiful, we made our kids self-sufficient. Giving them their own unique choice of food, clothes and gadgets. At least we had common bathrooms, common phone and television. Now there is hardly any common factor among the parents and children.
Kids Environment Activist
Kids like Greta Thunberg understood the danger of plentiful parents and self-sufficient kids. They urged their parents to own just one house, to reduce the carbon footprints, which is the measure of the greenhouse gases generated during production.
Greta also refuses to travel by air, to reduce the carbon footprints.
We must think like our grandparents and live like our parents.
We need to live our life from the scratch.
Because transporting food items from far away generates footprints, we must become self-reliant thereby reducing food miles. We must try to be self-reliant by growing vegeables in whichever way possible- terrace garden, kitchen garden and indoor plantation.
Gold treasure discovered hidden by ancestors
Several stories that appeared online give an insight into how we survive because of our forefathers saved for us. And why we must save for the posterity.
Roman age gold coins were discovered from the Como, city in Italy, which is worth millions of Euros. Possibly a wealthy person buried the coins in the beginning of 2000 AD fearing some invasion. Now the coin has become the wealth of a nation.
Air and water measurable
Who though that one day the amount of water used to wash the grapes for wines will be counted. And who thought the water used for manufacturing and washing jean will be considered as huge water consumption. Until now we thought air and water were free to be used by every living being.
We have an even bigger responsibility for the posterity. We need to save the environment for posterity. We need to be on an austerity drive. Instead of being on use and throw culture, we need to adopt use and reuse culture. A gist of how we can save for the posterity is being taught by the pandemic because we have learned to live a minimalistic life. We must continue our austere habits even after the pandemic and save for the posterity so that they can enjoy, breath and live freely on earth like we did in our childhood.