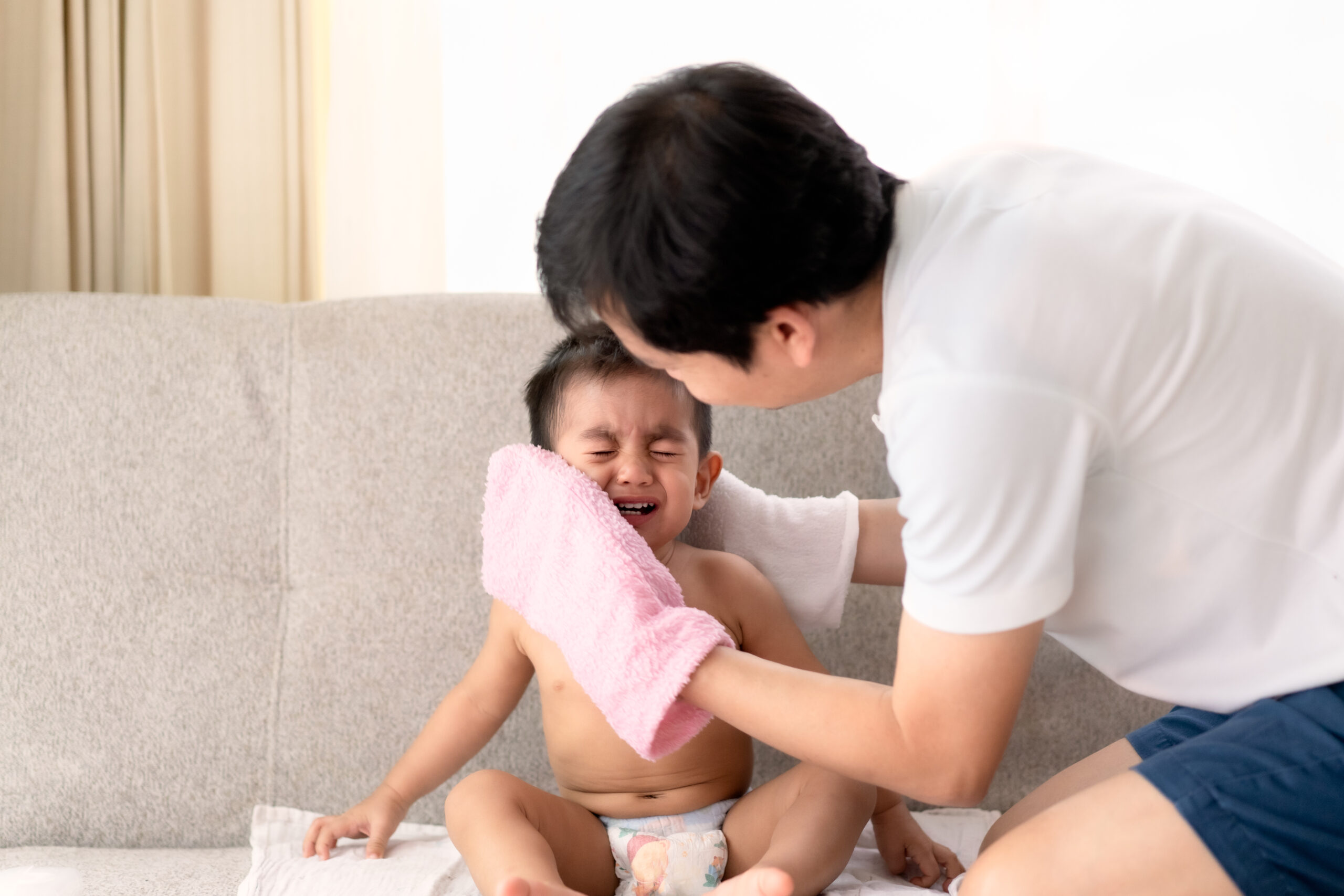 Fever Seizure in Babies: Do you need to worry?
Read Time:
6 Minute, 2 Second
Babies between of 5 months and 6 years, sometimes experience seizure during high Fever known as Febrile Convulsion. Do we need to worry about the sudden and short stiffness that occurs in the toddler. Is it an indication of epilepsy seen in the adults and adolescents. Dr Aji Varghese, a Pediatrician tells us more about Febrile Seizures.
What is Febrile Convulsion, Fever Seizure in Babies? How common is it?
Fever Seizure, Febrile Convulsion, happens in babies between 5 months to 6 years when fever increases with no other complications or symptoms. 5% of kids in this age group get Febrile Convulsion. Which means one in every eight children can get Febrile Convulsion.
How often does it happen in one child?
There are 40% chances for a child who once experienced Febrile Convulsion, to get another round of Febrile Convulsion. It can happen any number of times.
At what temperature does Fever Seizure happen in Babies?
After 100°C, this can happen. It is a fit that happens with fever.
How to avoid the seizure by preventing temperature rise?
Pediatrician will tell parents of children who have Febrile Convulsion, to make sure fever doesn't increase. They will be asked to store medicines to reduce fever and also suppositories.

When Febrile Convulsion happens, and the body, does placing metal keys in their hand help?
The seizure that happen in adults with foaming at the mouth, that is different. And the method of giving placing metal keys in the hands of the person doesn't have any affect, actually the fit's severity comes down on its own. Fever happens because of a number of reasons, we cannot prevent fever. But we can stop the fever from increasing and thereby preventing convulsion by:
Administering medicine
Applying suppository
Body sponge with lukewarm water
Does Febrile Convulsion affect brain?
No, Febrile Convulsion doesn't affect the brain. Fever happens when body temperature becomes high. Fits happen due to the complication caused in brain.
Why does it happen in some children? Is it genetic?
In families that had Febrile Convulsion cases before, the chances for children getting Febrile Convulsion is 27% to 52%. There is more chance for getting Febrile Convulsion for siblings and children of those who had Febrile Convulsion.
Why does Febrile Convulsion happen at this age?

The exact reason is not known. We follow 3 theory:
At this age brain development is incomplete. So the brain's sensitivity to heat will be high.
When temperature increases, nerve function alters.
Normal brain has the capacity to prevent convulsion, when fever increases the threshold is breached and so convulsion happens.
What first aid should be given during Febrile Convulsion? How serious is the condition?
If not handled properly, there can be serious consequences. The situation creates panic in parents. However after one instance of Febrile Convulsion, parents know the situation can be controlled by taking medicines, suppository and sponging the body.
Still if Febrile Convulsion happens then do not panic. And give the child the first aid for Febrile Convulsion.

Do not distribute the child by picking up. Let the child lie towards one side. That is because if the child lies flat then the child might aspirate,because the spit might reach the lungs. The situation can be lethal.
Do not give anything orally during the time of the fits. Like giving medicine. Because it might aspirate. On the other hand you can use a suppository at that time.
Continue sponging with lukewarm water. The situation will subside in 20 minutes. Don't try to take the child to hospital at the time of Febrile Convulsion.
Put some kind of mouth gag (not mandatory), like a wooden stick, so as to prevent tongue biting.
Will the first aid process create fear in the child?
No, the child won't know anything at the time of Febrile Convulsion.
Should we fear fever?
Only if we consult a doctor can we know whether to fear the fever. Fever is not a disease, it is the symptom of a disease. Fever happens when there is some problem in the body. Even though I said how Febrile Convulsion can be controlled, if we don't diagnose why fever happened and treat the disease, the fever won't come down. Sometimes it is a small viral fever that doesn't need much treatment. On the other hand if there is some serious reason for the fever, then we shouldn't miss it.
Are there different types of Febrile Convulsion?
There are two types, typical and atypical Febrile Convulsion.
Typical Febrile Convulsion
It happens between 5 months and 6 years of age. And it doesn't last over 20 minutes when the fever lasts for 3-4 days. In a year it doesn't happen more than 6 times and once during the fever.
Atypical Febrile Convulsion
On the contrary if the Febrile Seizure happens before 5 months and after 6 years of age; lasts more than 20 minutes; happens 2-3 times during the fever, happens more than 6 times in a year, it means small neurological deficits happen after the convulsion. Atypical Febrile Convulsion requires treatment.
For Atypical Febrile Convulsion you can meet a neurologist. So as to investigation like the CT Scan, MRI, Lumbar Puncture, Cerebrospinal fluid (CSF) Analysis or Electroencephalogram (EEG). The medicines will be based on the investigation.
You said to sponge with lukewarm water, why not use ice cold water?
It is a wrong process to use ice cold water. Before talking about warm water, let me tell you about how temperature leaves the body.
Through respiration. Our body is continuously getting heated and it leaves the body through respiration.
Through urine and feces
Majority of the heat goes out through the skin.
The temperature comes out of the skin through the blood vessels and evaporates. If we sponge with ice cold water then the blood vessels shrink. Constriction happens. Hence blood flow reduces and the temperature going out through skin becomes less. So when you touch the skin it is cold, but the temperature is still inside.
When we use lukewarm or normal water, the blood vessels dilate and the temperature leaves the body. So use lukewarm or normal water for sponging. Don't use cold or ice water.
Is Febrile Convulsion different from Fits?
There is no connection between fits and Febrile Convulsion. The seizure that happen in older children or the Seizure that happen with other symptoms other than Febrile Convulsion, can affect the brain. And may cause other difficulties.
Can Fever Seizure in Babies be prevented by preventing fever?
Fever cannot be prevented, we can prevent fever from reaching high temperature. Though I said about the First Aid for Febrile Convulsion, you must definitely visit the doctor. So to confirm if the Febrile Convulsion was not because of some other serious ailment.

About Dr Aji Varghese
Dr Aji Varghese, who answered the queries regarding Febrile Convulsion (Fever Seizure in Babies), had more than two decades of experience as a pediatrician. He did his MBBS and MD from JJM Medical College Davangere. Presently he is working with Badr Al Rabie Medical group in KiSaudi Arabia as pediatrician