[featured_post limit="10"] Dengue is one disease that afflicts the rich and the famous also. Which means that the cause of the disease is not just maintaining cleanliness in our homes or stay in a plush area.
Then how can we prevent dengue?
Dengue is spread by the bite of the female Aedes aegypti mosquito. When the mosquito bites, the virus multiplies in the human being; and the disease can be transmitted to others also.
Remove clogged water
Dengue mosquitoes breed in water clogged areas. In the homes, there are a number of sources of water clogging areas. The water in the flower pots, cooler trays, refrigerator trays and used tyres can serve as breeding ground for the mosquitoes.
In addition to maintaining hygiene in our homes, we must ensure that water is not stored openly in any container in and around our homes.
Cover your body to prevent mosquito bites
The dengue vector bites in the two hours after sunrise and for few hours before sunset. So we must ensure that we are well covered. Children, when they go out of the house, should be made to cover their hand and legs properly.
Most of the dengue mosquito bites happen outside the house. So we need to take necessary precaution to prevent the bite of the mosquitoes.
Use effective mosquito repellants inside and outside the homes
Good knight Active+, liquid mosquito repellant, is a common household name when it comes to preventing mosquito bites. When dengue virus becomes widespread, especially during cool weather, people start using more of Good knight Mosquito repellants.
Mosquito repellants are used in the daytime also to keep away the dangerous vectors. Most people use one repellant each for every room in the house.
The Good Knight repellent has a strong odour which prevents the mosquitoes from coming near the place where the repellent is in use.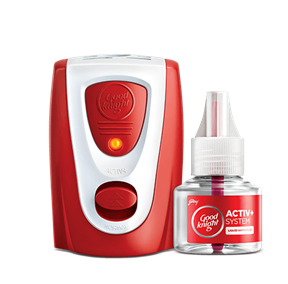 Every product of Good knight works has the property of repelling the mosquitoes from coming near the object which the repellent is applied on. So there are products of GoodKnight like the GoodKnight Fabric Roll-on, where four dots of the roll-on is applied on the fabric and not on the skin. And in this way, the mosquito is prevented from the person.
A person can be doubted to have dengue symptoms if there is high fever, combined with severe headache, pain behind the eyes, muscle pain, nausea and vomiting.
The same mosquitoes that spread the dengue also spread the Zika Virus. But Zika is less dangerous and usually, the virus is found in those who travel to different countries.
Dengue, a disease that was found only in a few countries has spread to over 120 countries. To repel the dangerous Aedes aegypti mosquito bites, secure your family, your body, home and surrounding by using mosquito repellant Good Knight products.