Tailormade Western Suits and Jeans in Delhi
Want some tailormade western suits and jeans, because readymades dont fit well? Then why not get one stitched here. These stitched jeans and formal suits looks as perfect as the readymade and that too at a price that will not burn a hole in the pocket. These shops in Mohan Place are the hot shopping spot for college students because they can get a perfect fitting Denim Jeans at less than 1000 Rupees.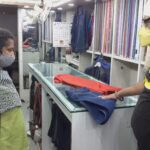 These stitching shops mastering in tailormade Western formal suits and Jean have been functioning for over 40 years. There are over 100 shops in the entire building. We had come to visit the Coffee House on the fourth floor when we chanced upon these unique stitching shops.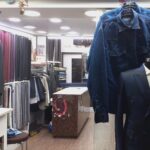 The stitching time is one to two days, and the price of the suit is around 5000 Rs. If you bring the suit material, then the stitching price is 3500. The tailors will be too happy if you get a picture of the suit design that you prefer. That will make their work easier.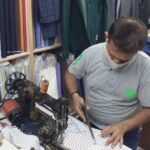 They stitch formal shirts that look like readymade shirts. The material for which is available at the shops. For those prefering sew all clothes, these shops will make sure that your wardrobe fills with customised, stitched, clothes, right from jeans to western formal suits.
For convenience, Purchase the material for the made to order jeans from the shops itself and the stitching time is one to one and a half hours. So while you cool the heels for the stitched jean, refresh yourself with some hot coffee from the iconic Coffee House on the fourth floor.