Going by the Mantra 'Pick them Young', Gail (India) Limited has ventured on an initiative – Gail- Indian SpeedStar – to spot the right athletic talents hidden in the cities and villages of India. According to GAIL "The reason to launch this program is to identify, select and nurture the hidden talent in athletes." The targeted age group is 11 – 17 years in 100m, 200m and 800m track events across, who can be trained to possibly win Top Honours at Sporting events like the 2020-2024 Olympics
On 22nd of March, 2016, GAIL (India) Limited and National Yuva Cooperative Society (NYCS), inaugurated the selection campaigns at the Constitution Club of India, New Delhi. The ultimate is to provide world-class training to the top 9 athletes, so that they can win international events for the country.
Eminent Selection Team
The selection and coaching panel consist of eminent sports persons – P.T Usha, Rachita Mistry, Anuradha Biswal & Kavita Raut. They have been appointed in the selection committee to support selections and guide coaching camps. As members of the selection committee their role would include creating the selection criteria or the GAIL Indian Speedstar program, and developing the training plan and module for the selected athletes at the National Level.
State Level selection conducted
In trials conducted at 55 districts across 10 States, more than 25,000 Children participated out of which 850 children got selected to the State level. The short-listed children from the State trials will participate in the National Coaching camp and selection, scheduled to be held in May 2016 at Jawaharlal Nehru Stadium, New Delhi. At the conclusion of the coaching camp, final trials will be held. Winners will be selected based on the qualification criteria and their potential. The winners will be given extensive training throughout the year.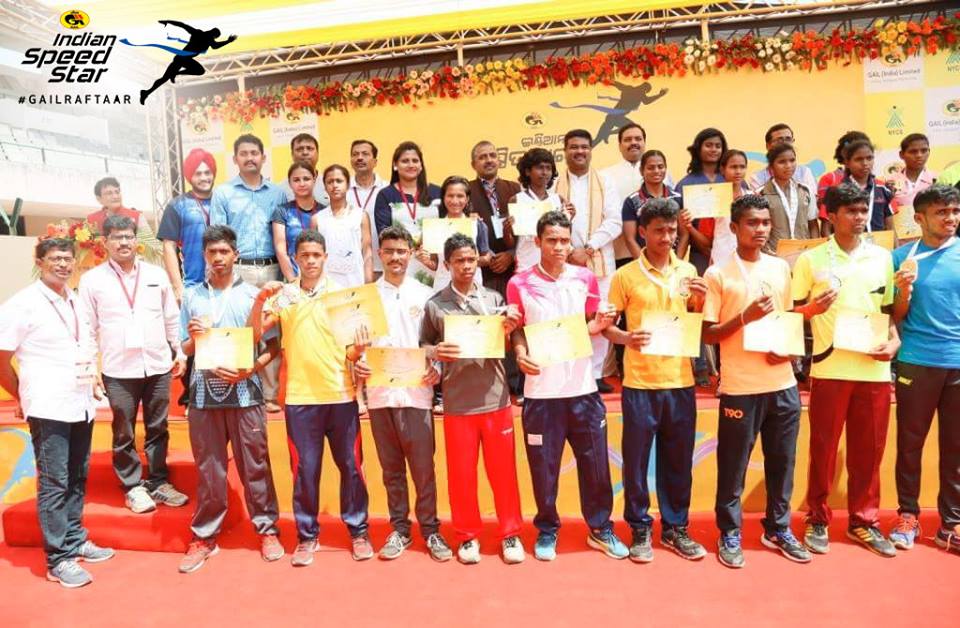 World-class training for Top 9
The top 9 athletes will then be provided with a world class coaching for over a period of 5 years with an ultimate objective of atleast one of these athletes to represent India at the Olympics.
'Legendary athlete P.T. Usha launched the initiative alongside the organizers DrAshutoshKarnatak,Director (Projects), GAIL (India) Ltd, Rajesh Pande – President, National Yuva Cooperative Society Ltd (NYCS) and Maneesh Bahuguna- CEO, Anglian Medal Hunt Company.
National Yuva Cooperative Society has tied up with Anglian Medal Hunt Company as its Technical Partner for The GAIL Indian Speedstar project.
The state trials were held in Odisha (14 Selection), Delhi (28 Selection), Kerala (28 Selection) &Jharkhand(4 Selection)followed by Maharashtra and Gujarat in the last week of April.