Westerners love spicy Indian food
Read Time:
4 Minute, 12 Second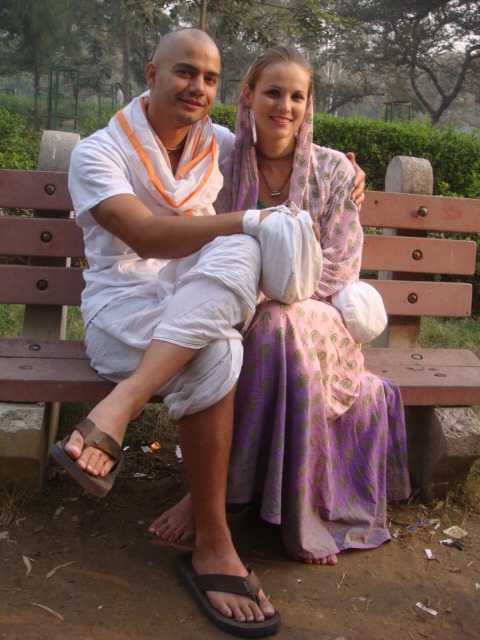 While strolling through the park, I chatted with two beautiful visitors to India, Mohan and Indu from US and UK. They are here for spiritual pursuit. While we chatted, daily visitors to the park were religiously following their routine like walking, jogging and yoga. We talked for a while about lifestyle in the two parts of the world and about their views about India. Find out why some fans recommended Neymar to opt ayurveda for his back injury.
What do you like about India?
Indu: I like the plentiful variety of sweets available in India. As soon as you enter a sweet shop you are awed by the collection of sweets like Gulab Jamun, and other colorful delicacies. All the 'sabjis' (vegetable dishes) here are tasty, and they are not spicy indian food like some people say.
Mohan: Back home I cook Indian food. For instance, I will add lime to milk and curdle the milk, and then squeeze the water out of the curd and prepare with masalas.
You mean Paneer Masala?
Mohan: Yes!
Is it comfortable to be a vegetarian in The US?
Vegetables are costlier than non-vegetarian food items, so being a vegetarian is tough. While shopping for vegetables, you have to read carefully all the labels to make sure there is no animal product.
Do you walk and exercise?
Mohan: Yes, I walk and exercise back home, but here I do not as I wear this tradition Dhoti and chappal.
Aren't the American's more health conscious?
Mohan: They may be more health conscious, but there are many obese people in The US than in India because people eat many burgers and grilled chicken. There are many food shops in The US, so people have food all the time.
How do people manage waste food in The US?
Mohan: There is a food collection system. One can call the food collectors who will come and collect the extra food, store them, and distribute the food to the poor countries.
The conversation with the two visitors to India gave some 'food for thought':
Obesity is on the rise in India
In India, the present teenage generation eat many burgers, pizzas and grilled chicken. When these kids are in their twenties in a decade's time, will we be also saying, "India has many obese people because of unhealthy eating habits"?
Once, a consumer organization conducted a survey in a school. They kept on one table healthy food as roti's, sabji, puri, cholae, panner etc. and on the other table junk food like potato chips, instant noodles, pizzas, etc. The children were asked to take whatever food they liked. They went and picked the junk food. According to this study kids daily diet largely consist of junk food.
Buying international brands of grilled chickens, burgers, and pizza is a luxury in India that a lot of the middle class cannot afford on a daily basis. However, if the day comes when the KFC's, Macdonald's and Dominos are cheaper than the samosas and Chola Bhatura's then middle class will have more burgers than homemade food.
Ask Yourself:
If a shop offers a Veg Samosa for Rs 20 and a Mac Donalds Chicken Burger (normal size) for Rs 10 what will you buy:
India urgently needs Waste Food Management System:
India culture cannot predict the number of guests who will come for a party, with the result of large food wastage at the end of the day. A large amount of "curries" are dumped on the road. Usually, people distribute the food among the poor or take the food to some orphanages. However, there are some difficulties:
The food spoils as it is prepared many hours in advance.
Orphanage inmates need healthy and nutritious food, but the food prepared for parties may be rich in taste and appearance but not exactly healthy.
People give leftover food to birds and animals in the park. Animals and birds are not used to having cooked food so the food decays in the park emanating putrid smell.
Therefore, we urgently need an emergency number to call to give away the leftover food. Friends if you have any other solution, please discuss.
My initiative to manage leftover food:
After having food at my home, many people request for the recipe of food I prepared. I wish to utilize my culinary expertise in a different way. I will make a habit to write one recipe or tip a day, not about exotic recipes but, about how to utilize the leftover food. When I discussed waste food issue with a friend, she said we can make a cake with the sour milk. I will blog the recipe for sour milk cake in a shot while, meanwhile find out how you will manage the waste food and comment in this article.
[sam_ad id="12″ codes="true"]