We went to Mahabelly for a family dinner on our wedding anniversary. We waited for our turn for one hour outside the Restaurant because they are very strict about serving on a first-come-first-served basis. You either book your table online or book on the spot outside the Restaurant.
The unlimited chilled lemon juice served to those who waited outside cooled the irritation about the long wait. That too on a wedding anniversary.
Art & Design

A perfect blend of the tradition and the modern lifestyle, once we went inside, what struck me was that this Restaurant stood apart from all the other Kerala Restaurants that I visited so far. Usually, Kerala Restaurants give priority only to food; however, at this Restaurant, there is a Kerala ambience because of the art and design of the Restaurant. There is a mix of tradition and contemporary in every aspect, right from the name of the Restaurant, 'Mahabelly'. Onam marks the annual visit of the legendary king Mahabali.
The Funny Posters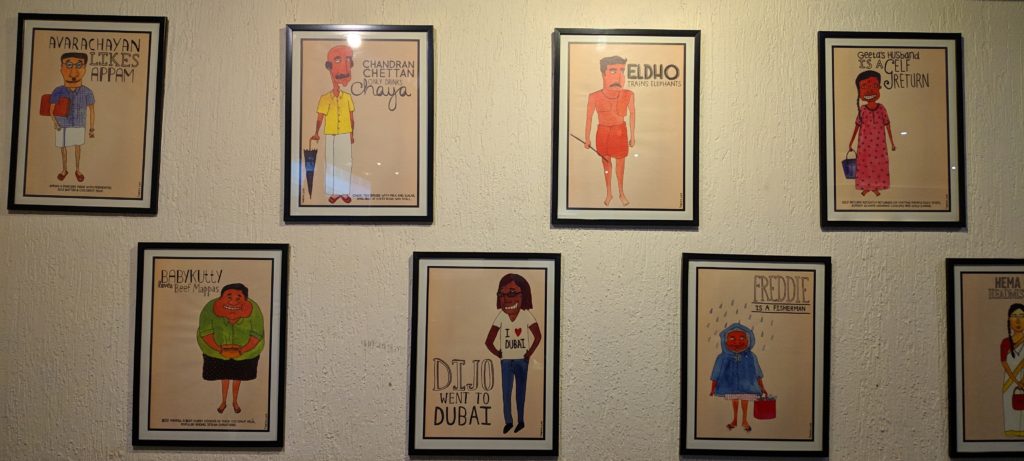 Funny posters attract everyone's attention. The funny banners attract everyone's attention because they reflect the current demography of Kerala. The bar named 'Mala Bar' displays the signboard of a Kerala Toddy Shop. And the washbasin, shaped like a Urali, traditional copper cooking vessel of Kerala.
The customers are of mixed demography, "We have a mixed group of people coming here, not restricted to any single demography as such. We have a lot of Malayalees visiting us who are our bread and butter. Apart from them also have people from the North, the locals from here and also a lot of foreigners." Says Zachariah Jacob, one of the three partners, of Mahabelly.
The Food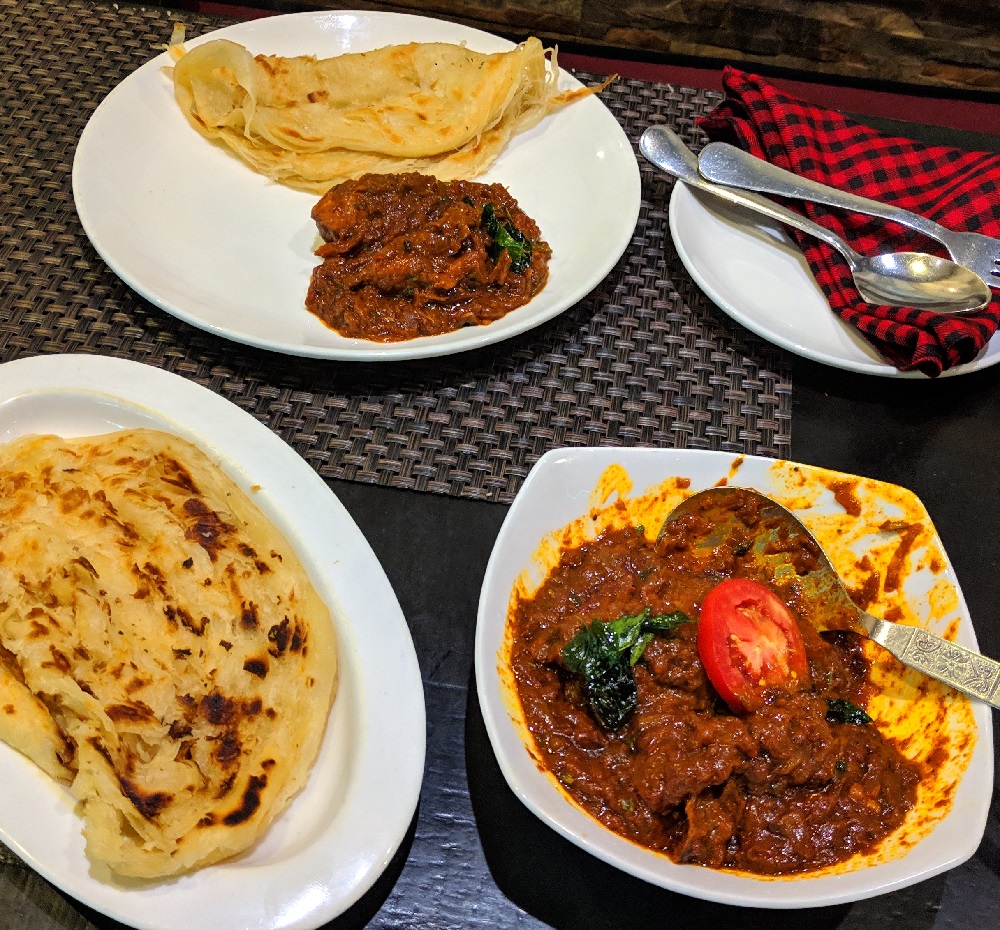 Tasty, authentic and attractive On that day, we had Kappa, fish curry, Kerala porotta and Chicken roast. The food was delicious, authentic and appealing. Located in Upscale Delhi, the rates seem reasonable.
We all thought that this is the best Kerala Restaurant in Delhi. I emailed to Zachariah, to allow me to write a review about the Restaurant. He invited me to experience an Onam sadhya when there was a shooting going on by Red FM. Mahabelly has got great reviews by almost all leading media houses in India.
If you want to experience one good Onam sadhya in Delhi, during the Onam season, Mahabelly in Saket, is the right option in Delhi.
Onam Sadhya fiesta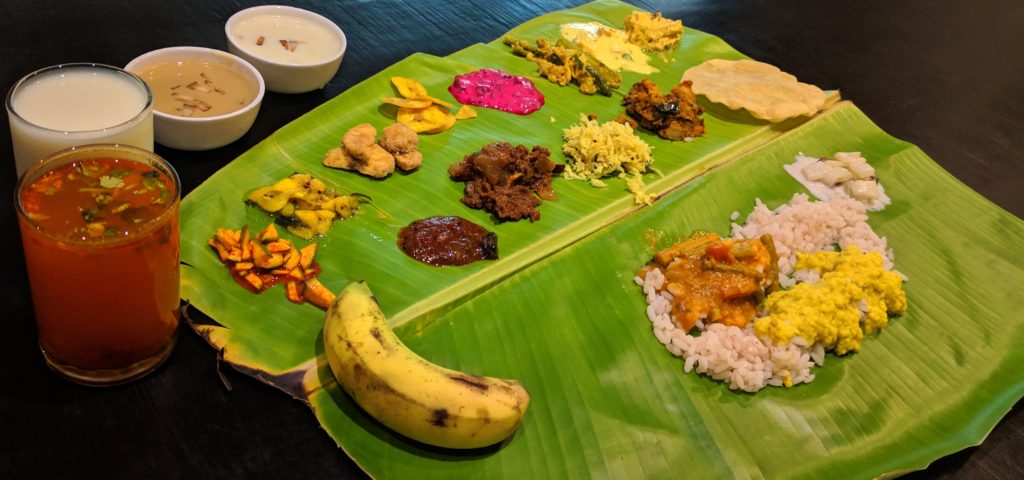 Mahabelly Restaurant will be exclusively serving authentic Onam Sadhya, during lunch and dinner with ingredients brought from Kerala. There will be around 21-25 dishes, including two yummy payasam, served on original banana leaves. The rate is ₹888 per head, which is all-inclusive.
For those who cannot do without non-vegetarian even for an Onam sadhya, there are a few non-vegetarian starters also available.
Kerala Toddy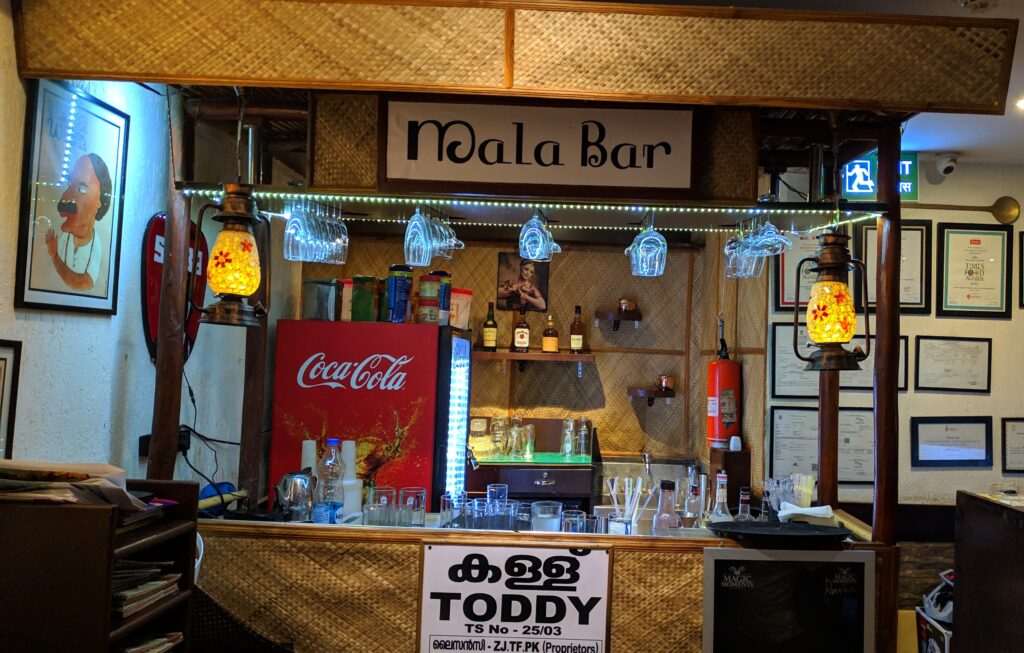 About serving Kerala Toddy, Zachariah said, "We are not serving Kerala toddy. Unfortunately, the licensing rules do not allow us to serve Kerala Toddy here. At the same time, we have a lot of other options, especially southern themed cocktails, curated for the kind of cuisine we serve."
So this Onam, if you are in Delhi, celebrate the visit of our beloved king Mahabali by having an authentic Kerala Sadhya at Mahabelly Saket. There are special Christmas cuisines also.
HAPPY ONAM