Does there exist a difference between appam and aappam? When a chef presented appam, I could make out from the texture that it was aappam (ɑːpam) and not appam (əˈpam).
The chef agreed that it was aappam ('a' as in 'part') and not appam ('a' as in 'America'). To my friends, this was new information as they said that they never knew that appam was different from aappam.
Besides, on browsing, no such article or video existed clarifying the difference between Appam and AAppam.
What is appam?
If bread means any baked item made with flour, yeast and water; in Malayalam appam refers to any baked, steamed, fried or pancaked item made with flour. Appam can be vattayappam, unniyappam, Nei appam, idiyappam, Vella appam, palappam and so on.
When you add yeast to the rice batter and make pancakes on a flat pan, then we get velleyappam. So, when you add urad dal to the rice batter and ferment, as in idli, and prepare pancakes, then that is dosa.
Here we are discussing the appams prepared in appachetty (small hopper pans shaped like a deep frying wok).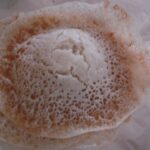 What is palappam?
The appams prepared in appachetty traditionally called Palappam prepared by adding pal (Milk) to loosen the batter. But, in recent times, appam generally means palappam.
Palappam is when coconut milk is used instead of water to grind the rice and yeast used for fermentation. And once the batter rises, nice wafer-like, basket-shaped hoppers are prepared with a thick, soft and fluffy inner core. Nowadays in restaurants and parties, these palappams, globally known as appams and curry has become a favourite cuisine.
Being a Malayalee I prepare appam using yeast or coconut water. But, my Tamilian friends use urad dal – one or two spoonfuls of urad dal, as a larger quantity of urad dal will mean dosa.
What is AAppam?
The appam that I had that day contained urad dal instead of yeast for fermentation. The chef was Tamilian, like my friends, therefore he called the hoppers as AAppam.
Difference between appam and aappam
The difference between appam and aappam differs in three aspects. While yeast ferment the appams, urad dal (black gram) ferments aappam. The texture and taste of both differ as the fermentation agents differ. And while the Malayalees call their rice-yeast hoopers as appam, the Tamilians call their rice-urad dal hoppers as aappam.
Isn't so much differentiation enough to prove that appam is different from aappam? What do you say?