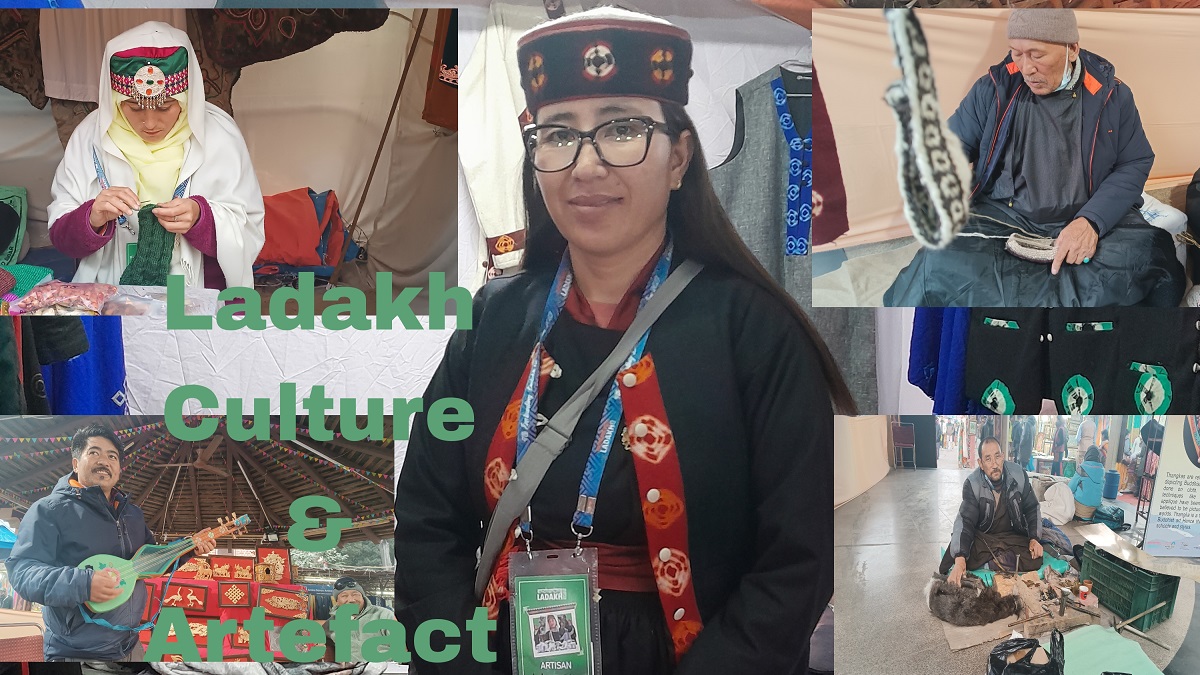 10 ladakhi merchandise you need to know at Dilli Haat exhibition
Read Time:
4 Minute, 5 Second
The 4th edition of Enchanting Ladakh is taking place at Dilli HAAT, INA, including an array of Ladakhi Merchandise. The exhibits include food, garments, paintings and artifacts. The exhibition began on January 1st and ends today January 15th.
Handloom and Handicraft Ladakhi merchandise
Ladakh with its pure setting on the high mountains has some of the best handicrafts and handloom products. Interestingly, they procure raw materials locally. Most of the garments made of sheep wool of Ladakh. Even to heat the brass and copper they use a manual blower. Machines not used because of low in the mountains.
Yak Cheese
Sonam Dawa is one of the 25 farmers of a cooperative in Zanskar valley. The female yaks graze at an altitude between 3700 and 4700 meters. The nutritional grass and medicinal plants give the yak milk an attractive aroma and color. Yak cheese contains high nutritional value and also a good source of Omega Fatty acid. "Foreign tourists who come to Ladakh buy the yak cheese to have in combination with wine." Said one of them. Yak Cheese has a shelf life of one year. As such the cheese can be kept at room temperature, however in summers it can be kept in the refrigerator. Dry cheese is also available.
Hand woven sheep wool products
She belongs to the tribe of Sheena and she is knitting woolen items. A number of stalls displays sheep wool products Hand knitted by women of various tribes in Ladakh. The handknitted products include Cardigans, jackets, mufflers, hats and socks.
Paintings
Sitting at his stall, Jigmet Gyasto from Sakti valley continues with his art work while talking to the customers. The handmade deities in aluminum and clay include Goddess Tara, Mitr Buddha, and so on. He does thangka (scroll) painting, for which nowadays he buys colour powders from the market. "6 basic natural colours needed, from which we create 100 new colours. The natural colours procured from certain stones, but now, Jigmet says, blue and green not easy to get.' he said
Pashmina
The board said Pashmina with natural dye. He said the bright colourful one's are dyed with synthetic colours. "We dye with natural wood and roots that are found on Ladakh Mountains. No chemicals are used." "Are these done with natural dye". No, they are not from natural dyes." "The dye used on these shawls are natural dye". "Only very little dye gets extracted, so we make small designs with the natural colours.". "Some ask for green 10 pieces, which is not possible." "So we do small design like these ones."
We can just give a hint of the natural dye on the pashmina. People ask for complete green and blue pashmina, but we cannot make the entire thing colourful. Blue is from indigo and green from root chutsa. By adding a certain saltto the yellow root, we get the green dye. "Once you understand the comfort of wearing the pure pashmina dyed with natural colours, you won't use anything else." he said
Brass and Copper Items
Phunchok Stobdan, from Tsogsti village, belongs to a family skilled in copper work for hundreds of years. He demonstrated the hearth where fire is lit using a sack made of yak skin. His handmade brass and copper products include tea set, lunch box, ladle, spoons, jugs and Pooja items.
Pabus, shoes
Psbud, the handmade shoe made of sheep wool. The outsolemade of sheep or yak skin keeps the feet warm in winter.
Traditional Dress
There are some interesting traditional wears. Some worn by the artisans and others for sale. Sulma a traditional flowing robe worn by the women of Ladakh. Tilla dress embroidery done using gold or silver thread. And the thikma design used in shoes and garments. Thikma is a dye technique where various colour designs are made on a maroon based wool fabric.
Wood souvenirs
In the Ladakhi merchandise, there is an attractive array of wood items for souvenirs and furnishing. Most of the items made with locally available poplar and willow wood of Ladakh. There was also a ladakhi string instrument piwang carved in wood. Though not an expert, The shopkeeper demonstrated the instrument.
Organic mountain food products
A number of organic mountain food items were available as dried products or in the form of preservatives and oil. Apricots dried, kernel and oil were available. Sea buckthorn products, Kargil Apples, dried chamomile flowers are available.
Hand woven carpets
Handwoven carpets are also available,
Later in the evening there are cultural programs from Ladakh. The event ends on January 15th.
Watch the video to know more about the Ladakhi merchandise.