This blind journalist guides those who can see with his wealth of knowledge
Read Time:
7 Minute, 48 Second
Swaminathan Rajappan Pillai, may be congenitally blind, but the moment he begins the conversation with his favorite word to break the ice – "Hello", we will marvel at his depth of knowledge and brood at our own inner darkness. He is a post graduate from the prestigious London School of Economics and he is MA (History) gold medalist from Kerala University. He is the winner of cash awards, medals, certificates, books and trophies from voluntary organizations and trade unions for getting first class in all public examinations.
He has traveled to more than two dozen countries and wherever he went people wrote about him in newspapers and magazines. What attracts people to him is his positive attitude to life, and his amazing usage of other faculties to compensate of for the one disability that he has. He achieved every dream like others – he is well educated, married, has a daughter, and has a lot of friends. He is a blind journalist, which is a rarity in India. And above all, he is a motivator and counselor for friends, students, and colleagues.
We worked together in an Institute, where we worked as IELTS instructors. He is lovingly called as Swami Sir by everyone and his classes were always crowded. We were assigned the task to prepare possible questions and answers for the speaking and writing module of IELTS exam, which was to be published as a book. I used to create the possible questions and Swami Sir gave the answers. No matter what question I created from topics under the Sun, he immediately churned out answers from his wealth of knowledge stored in his mind. Swami sir does not carry any gadgets. Whatever knowledge he shares is extempore. The book that he helped in essaying, ten years back, sells even today like hot cake.
He has extraordinary insight about human abilities and fallacies. So he could help many people solve their family issues. He recommended the CEO of our institute to assign me with the editing task of the IELTS book. Neither I nor the CEO was aware of my book editing abilities. I am indebted to Swami Sir for being the beacon in my writing and editing career.
Here is an interview with Swami Sir who has guided many, those who can see, for a better future in their career and family life.
What do you do nowadays?
I am an academic and freelance journalist. I teach English to students of IELTS, TOEFL, PET, GRE, GMAT, SAT and general English at Centre for American Studies, Vazhuthacaud Trivandrum. I sent articles to various publications such as Daily News and Analysis in Delhi. Moreover, I broadcast on some American radio stations.
British and Indian media organizations have accepted and published all my articles with no change of even one word. Interviewing the then British Education Secretary David Blunkett for my first-ever radio program is a remarkable achievement in my journalistic career. My listeners of BBS RADIO, which is an online radio station based in California like my talk shows very much.
[third]Many girls who had been with me during school and college days were very fond of me.[/third]
Tell us something about your childhood and education?
I am the eldest of my parents' four children. I have a brother and two sisters. All of us are now married and settled.
I began my schooling at the age of eight because my parents were unaware of the existence of special schools for the blind in India. I joined a newly opened blind school at Varkala on July 15, 1968. I was the smallest child. I have never looked back since then. Even now, most blind children study at separate residential schools until they are ready for high school in India. I did that. The blind school at Varkala had no government recognition at that time. So, my parents moved me to a government blind school at Kottayam and I did my primary school there.
I had my high school and early university education up to my BA degree respectively at T.D. High School and S.D. College at Alleppey, which is my hometown. I had my first Master's degree at the Kerala University Campus at Karyavattam Trivandrum. The rest of my education was in London after working in Lakshadweep as a college lecturer for nearly nine years.
Tell us something about your wife and daughter?
My wife Sunitha is a qualified medical doctor. We have only one daughter and her name is Devi. She is now studying medicine in Russia. She is going to be a fourth-year student.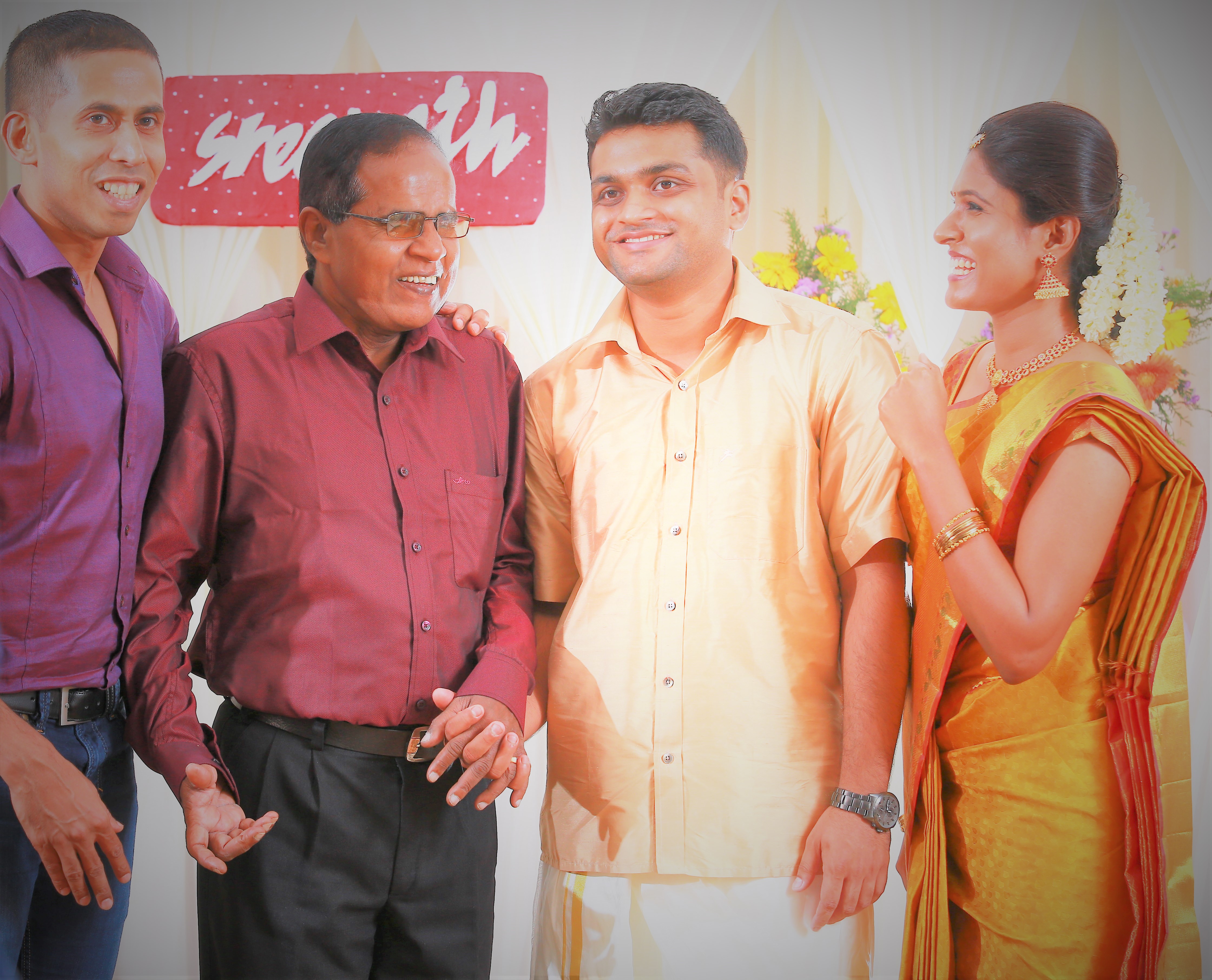 Where did you meet your wife?
I met my wife at the Alleppey Bus Stand on May 10, 1988. She is a native of Quilon. At that time, she was studying medicine at Alleppey Medical College. We were introduced by some common friends. Gradually, our friendship grew to romance and we got married on September 30, 1991.
Which all countries have you been so far?
I began my overseas journeys with England where I went to do my higher studies at the prestigious London School of Economics and Political Science. I have been to 29 countries so far such as the UK, the US, Germany, France, Poland, Holland, Switzerland, the Middle-East, the West Indies, Russia etc.
Which country is the friendliest to people with different abilities?
Britain and the United States are very much friendly to people with special needs. Asia and Africa are far from friendly. In the Middle-East, they are not in the limelight of society.
[third]Proclamation by ministers and officers are not scarce but many people with disability have a tough life in India. [/third]
What is the situation of differently abled people in India?
It is far from friendly in India. Proclamation by ministers and officers are not scarce but many people with disability have a tough life in India. With little or no assistance from the government and a society heedless of the plight of disabled people, their lot is cast in a world of darkness and solitude. They drag out their sterile existence in silent agony. For example, visually impaired people need scribes to appear for various public examinations including university examinations. Government remuneration for such scribes is very poor. People are unwilling to perform this role for such meager wages. Besides, there are several other restrictions such as the scribe should be a less qualified person than the examinee.
What all gadgets assist you in your activities?
In the past Braille was the only available tool for blind people. These days, computers and access technology have improved their lives significantly. I use computers and mobile phones. Android and Apple phones and similar devices are really good. I use them in my life. In the past, a very informed and knowledgeable blind individual could be at least a couple of years behind his/her sighted counterparts even in Britain and the United States. Now that online facilities are accessible thanks to modern technology, it is possible for us to work together comfortably.
[third]I use my other faculties, i.e. my hands and ears. I am a keen observer of everything that happens around me.[/third]
Unlike other people with special needs you are a jolly person, you live your life to the fullest. You used to tell us about women in your life in schools, colleges, and family; can you share some of the stories here?
I do believe that men and women are complementary. To like gentlemen is what good women like. I have profound pleasure and pride in being a gentleman. For that reason, I have had several women in my life as friends, colleagues, advisers, well wishers, and counselors. Many girls who had been with me during school and college days were very fond of me. I had similar feelings towards them as well. With some, the passion was inexplicably deep. However, as a person with a disability, I was unable to give them any promise until I was standing on my own feet. Some of them have not forgotten it.
People around you marvel at some of your extraordinary abilities, which even a normal human being does not possess – your roti and sabzi gets over together, for a normal person either the roti or the sabzi will be left in the end; you can touch and immediately say the model of the bike; and you know every denomination of currency, no one can fool you. What is the secret your success?
I use my other faculties, i.e. my hands and ears. I am a keen observer of everything that happens around me.
How are the new Indian currency notes different from the old ones?
They are less wide. They have some identifiable marks. However, Indian coins are more difficult than notes.
What message do you and your wife have people—able-bodied and disabled?
I would like society to become just and egalitarian. Equality before the law, the equal opportunity before the law and equal protection before the law are the cardinal principles of rule of law. These principles must be practiced everywhere so that the man in the street has room for liberty and justice.