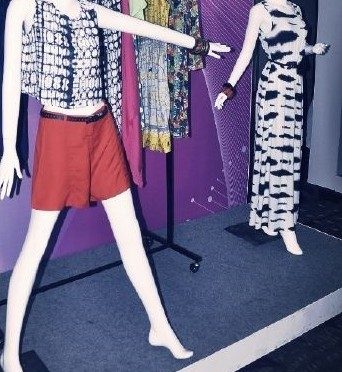 Fluid Fashion – Comfy cum stylish garment for modern women
Read Time:
2 Minute, 40 Second
Remember Kangana Ranaut and her LIVA, natural fluid fashion adverts that filled the national newspapers a few weeks back. Natural fluid fashion has come of age and is going to be the raging trend of the coming years. I can say this with confidence because celebrity fashion designer Anita Dongre designed summer collection for her brand Global Desi with Natural Fluid Fabric. And, whatever prints and designs Anita Dongre introduces every season is copied and recopied until the trend is adapted by every household in India.
It is said that we wear fashionable garments to impress others though we many feel uncomfortable in our outfit.  Fluid fabric being light weight and unfussy, makes the modern professional woman look elegant and fresh even after a grueling day of work and commuting. With bright colours and chic patterns Anita Dongre used the fluidity of the fabric to design outfits in her popular styles – traditional, boho chic, contemporary, classic, western, to stylish saris. The loose flowing fabric shaped into churidhars, western wears, maxi dresses, tunics, crop tops, high waist skier and T-shirt dresses are the right choice for the summer and fall.
The fluid fabric is launched by the Aditya Birla Group under the brand name LIVA. The fluid fabric is manufactured by extracting cellulosic fibres from woods from trees specially grown for this purpose. The fibre is said to be "natural and biodegradable, crafted from the choicest wood pulp".
This summer when I visited Anita Dongre showroom to see the latest collection, the LIVA fabric outfits simply looked outstanding and attractive. With their free-flowing silhouettes and breathable drapes, fluid fabrics can be designed for regular or party wears. Be it a working day or a day out for a get-together, in our Indian culture we love to be draped in a Sari or wear colourful churidhars. But thinking about the discomofort and the work hassle that the outfit will cause we compromise. Either we wear a comfortable outfit and look plain, or we wear a fashionable wear and remain conscious the whole day about the dress, which will affect our productivity. This is were the new fluid fabric brings the balance, you can move about effortlessly and confidently in your favourite style of dressing.
Fluid fashion is about looking and feeling good everyday, with the added satisfaction that we are not exploiting nature. Trees can be replanted which means the latest fashion trend is eco-friendly.
Natural Fluid Fabric is being rampantly used by leading designers to created their latest collections. Fluid fashion outfits are being sold by many renowned brands. Celebrities are finding the fabric a welcome change from the regular fabric that are welcome change from the boxy silhouettes or tight dresses.
The winter/fall collection are now in the market and there are yet more new styles and combination of the fluid fashion. The fashion Designers are planning to bring in more designs using the fluid fabric. I feel very Natural Fluid Fashion is getting trendier and very soon the wardrobe of every fashion conscious woman India will have fluid fashion outfits.
[sam_ad id="8″ codes="true"]