Work from home and still be a professional
Read Time:
4 Minute, 22 Second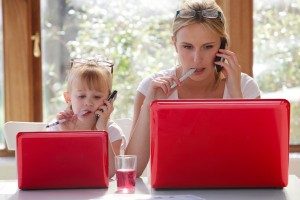 Which is the best way of nurturing of kids – saving money saved for their higher education or spending time with them for homework and extracurricular activities? By being a work from home mom,  with 8 hours weekday job and three hours of commuting, I compromised on kids activities – sports, music and other extracurricular. Which is not a sign of ideal parenting. In addition the kids managed their food and personal care instead of enjoying a carefree childhood.  In order to foster a suitable environment for kids during their growing up time, I concluded, it is better to be a work from home mom rather than a hardcore professional. Find out why Network Marketing Survives in this post.
A work from home mom! that will be a disgrace to my parents who financed my higher studies and a breach of faith to the friends, and colleagues, who expected I will reach the  ultimate of the corporate ladder. The moment the bundle of joy was kept is my hand, and I looked in the baby's eyes, heard it's helpless cries, my career goals took a back seat–  I had to choose which is the highest priority – my needs or the needs of the one who is completely dependent on me.
Homemaker is a job without appraisal or rewards–No one praises you for keeping a spick-and-span home; kids take your presence at home for granted; friends and relatives use you as a help for babysitting or for getting odd chores done.  On the other hand, as a professional there is nothing compared to the joy while noticing the message in mobile of salary credited to the account.
Women in their forties regret to have sacrificed their profession for the family during the growing-period of their careers. Women after a long parenting break end up converting their hobbies into an income generating business – cooking, tailoring, horticulture, beautician, etc.
However a growing tribe of young women professionals opt to be work from home moms who while being full time homemakers take up home-based work assignments. Everyday work from home moms set aside a few hours for work assignments and thereby earn a  handsome monthly income while taking care of kids' homework, football coaching and dance classes.
There is an ocean of work from home opportunities in every job industry about which you can find by do web research or talking to professionals in your industry to find out suitable work from home assignments.
Additionally, you will not miss the benefits of being in a job environment — the teamwork, learning, the synergy, job appraisals – – if you  work from home in a professional manner. Here are a few tips to  help you work like a true professional when you work from home.
Do not change the profession for the sake of convenience
First and  foremost do not to change the professional industry that you belong whether it is information technology, journalism, teaching, etc. Take up a part-time job or an online job to remain connected to the profession.
Remain in touch with your industry
Always be in touch with your profession– take up assignments, talk to professional friends and learn new skills. Remember the poster of a wrinkled hand, praying in front of a candle – the story goes that a painter worked as a labourer in his youth to earn a living and he thought to pursue his passion after fulfilling his duties. After fulfilling his duties when he tried to paint his hands has lost the flexibility and magic, so he stood before a candle and prayed to God to restore his lost talent.
Build up your network
Remain in touch with the industry – friends, teachers, colleagues and experts. You will know the development in the industry and when there is requirement your contacts will suggest your name .
Be active in social media
Social media is a  wonderful tool where you know what are the developments in the industry, whereby you can not only remain updated on the new happenings in the industry, but also you can acquire new connections via Facebook, linkedin, twitter, etc.
Be up to date on the developments in your niche industry
In this age of information explosion, it is not a question of where or how to obtain the information, but what information is relevant to your career development. Reading newspapers, books regularly and in addition there are a number of online magazines that will send regular updates. Sign in for google alerts and the latest information on the topic of your choice will come to your email.
Learn new skill or study industry specific courses
The biggest challenge of the home-maker is to be available for every member of the family whenever they require your help. However there are pockets of time during the day when you are free which can be utilized to earn a degree or a diploma. The greater the number of qualifications, the catchier your CV looks, in addition to the  knowledge gained. Also the future employer will understand that you are a self-motivated individual.
Contribute via freelancing to your industry
Every job industry requires freelancers and part time employees, about which you can find out utilizing online search and contacts.