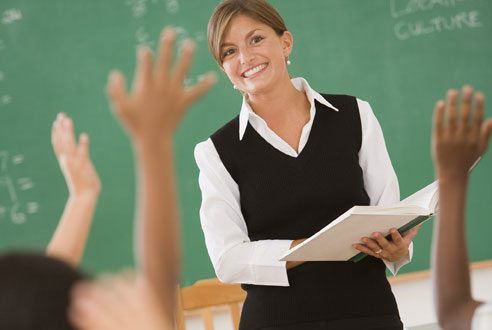 Importance of personality development for teachers
Read Time:
2 Minute, 46 Second
[button icon=]Personality Development[/button]
The managements are emphasising on the quality behaviour and focusing personality development for teachers as they are the link of trust between parents and the school.  Parents communicate with teachers to judge their children's activities and progress in school. The personality of a teacher just doesn't play a crucial role on students in enhancing their growth and development but it builds confidence among the parents.
Personality doesn't mean just the characteristics and appearance of a person which grows and develops as age proceeds instead it needs constant self-direction towards sincerity, personal integrity, sociability, courtesy, morality, wisdom etc. These characteristics should be a part of one's teacher life. They are the necessary ingredients of a successful teacher.
Dr W. H. Burnham said, "everyone knows what personality is, but no one can define it." Has he said rightly, understanding and developing a personality is quite tough and everyone has their own statement to define? One can improve their personality by admitting that our personality can and could be changed which is not inherited. At the current scenario personality trait of a person dealing with the public is given lesser importance both by our society and educational system.
With competing edge in the educational field branding of an educational institution is in hands teacher for maintaining parental and children relationship. Speaking in general, teachers act as a brand ambassador of a particular school.
Here are four success mantras for Personality Development of teachers:
Communication Skills: Being a teacher communication and presentation skills are critical in teaching and as well to commute with the parents from different class and field who are concerned in particular of their ward. A teacher has to understand the parent's needs and then communicate with them at a horizontal platform. It needs to be effectively satisfactory and meaningful. It should neither be confusing or incomplete nor suppressive.
Trustworthiness: As said earlier teacher and parental relationship with effective communication provide guidance towards a child's growth and development on a timely basis. The teacher enhances the faith and trustworthiness of the parents towards the institution/school.
Morales: Teachers are a vital part of the education system, and their level of morale has a direct influence on student achievement and learning. Parents trust the teacher and their promise. So, the teacher needs to adopt a mutual helping attitude with them to meet their expectations in bringing up their child. A teacher needs to be active, optimistic, convincing and committed. With these traits, one can win the faith of parent's and create a joyful working atmosphere at the institution.
Motivation: Mainly, appropriate and planned teaching behaviour is the key to motivate students and every teacher has to keep motivating their pupil to succeed in academics and in life. A teacher in his professional can't depend on other external sources to support and stand by him. He needs to be self-motivated.
[plain]About the Author:  
Vinay Kumar. C is an Environmental Researcher at NRCLPI – The National Referral Centre for Lead Poisoning in India. He is a multi-skilled professional having an excellent track record of managing complex functional projects in various environments.  [/plain]
 DISCLAIMER : Views expressed above are the author's own.