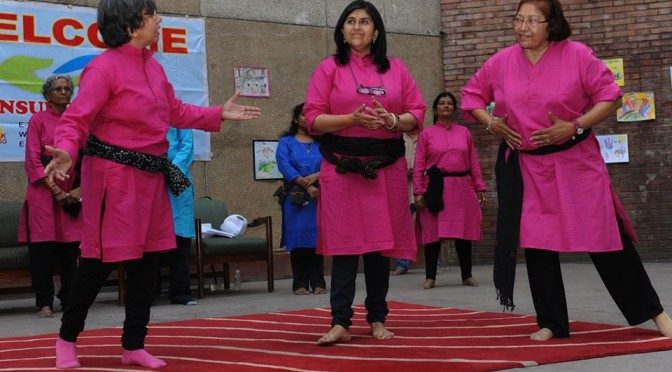 Nukkad Natak by the consumers for consumers
A smart consumer should not be carried away by advertisement hypes; they should know the difference between junk food and healthy food; and they should know if the Doctor is recommending needless tests for a non existent disease –  so is the message conveyed by the Nukkad Natak (Street Play) and other performances by members of Consumers India. The participants are themselves consumer who have become aware of consumer rights so they are spreading the message through the plays. To know about the food fest in Delhi, read this post.
Consumers India which is conducting the energetic performances in collaboration with India Habitat Centre, has a group of talented and passionate participants from different walks of life and of various age groups. They include students, professionals and retired officials participating in the powerful nukkad nataks spreading awareness about relevant consumer issues like Junk food, Misleading Advertisements and Unethical Medical Practices.  Today the Creative Expressions For Smart Consumers – Performances regarding unethical medical practices, misleading advertisements and junk food, Directed by Dr Roopa Vajpeyi, will be held at 5 PM, Amphitheatre, India Habitat Centre, New Delhi.
A month back Consumers India spread the message that anyone above the age of 15 can participate in the 'We for Change' and a group of enthusiastic consumers, who want to learn more about Consumer issues, got together to bring out the energetic and educative plays and other activities.
Consumers India consist of intellectuals and government officials who are passionate to spread their knowledge and experience for the empowerment and well-being of the consumers. Dr. Jayashree Gupta, the President of the NGO, conducts seminars, workshops and other activities to educate consumers so that they can decipher malpractices that is happening around them and raise voice when required.