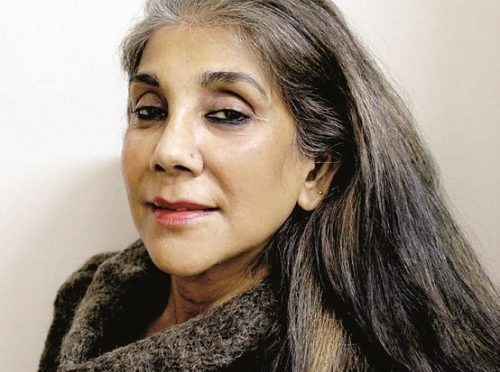 Meet Poonam Bevli Sahi a Painter and a Business Woman
Read Time:
2 Minute, 29 Second
She successfully manages two careers, as a Graphic Designer and a Painter with elan. Poonam Bevli Sahi has been running her designing studio, FACET, for the last few decades. She got many prestigious customers, Help Age India being the first, who design their dossiers and other communication material at her office. Many well known companies have got their designing works done with her for decades, as they trust her reliable and quality services.
When you go to her office-room there will always be an unfinished canvas which is being painted. And the canvas is the indication of her other profession as a Painter. She has been Painting, and wining prizes, since her childhood. Asked how she finds time for painting, in the midst of the already busy and time-bound designing career, she says steals time.
Poonam Bevli Sahi, I know her since I used to get the designing work done at her designing cum home, for the magazine that I worked with. There is an artistic feel in her home, beautiful wall hangings, artistically shaped furniture and everything placed in such a manner so as to accentuate the beauty of the surrounding. And the most attractive was the floating flower arrangement in a copper vessel.
Poonam Bevli Sahi has conducted a number of exhibitions both in India and Abroad. Many of her paintings are brought by private painting collectors around the world.
From March 2nd to 8th, she has been exhibiting her paintings at IIC, Delhi with the theme of the painting being 'Life is a Circus'. She narrates the various  challenges in life which is similar to the tasks carried out by Circus artists. Circus is an unexplored theme in painting.
Poonam Bevli Sahi inherited her passion and painting talents from her mother who herself was an amateur Painter. Her mother was married young, and before starting her career at NCERT, she used to do a lot of canvasses.  And she used to visit, with her mother and sister, many painting exhibitions and interact with artist. The exposure to the world of paintings, she says constantly fuelled her passion for painting.
When asked whether painting, was a hobby, which she pursued during her free time, she reiterated that painting was her profession. Leading a disciplined life with proper diet, yoga and meditation helps to manage all the activities.
When asked about how she portrayed women in her paintings, she said that for her men and women are  equal.
In today's world when women try to balance their family and career, like a trapeze artist, Poonam Bevli Sahi is an inspiration for women. With proper delegation, passion and hard work you can be successful in two parallel professions.
When asked what message she would like to give to the young women entrepreneurs, she said there is nothing impossible for women. Be consistent in your pursuit and you will achieve your dreams.