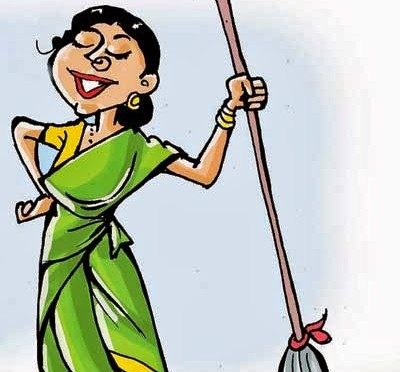 The Career-oriented housemaid
Read Time:
2 Minute, 21 Second
Housemaid, the only empowered and emancipated lot in India – thus believes working women in Delhi, who spare no effort to do equal justice to her home and office duties. Her indispensable support at home is the housemaid. Her day makes or mars upon whether the housemaid comes or not. Read how cheaper electricity can improve common man's lifestyle. 
Conversation between the employer and housemaid
"You didn't come yesterday, Bai?" the woman asked politely to bai (that's how housemaids are addressed in Delhi).
"I couldn't come" she replied indifferently, deeming it unnecessary to give an explanation for her leave without notice. She can take up more houses if sacked. No enticements, in the form of gift or money, can help to bring her punctually and regularly to work. Every perk has an effect of two days.
Ignorance is bliss!
Ignorance! is what makes the housemaids powerful in comparison to educated working women:
She says she is illiterate, so she doesn't know about family planning; she has eight kids from the age of six to twenty-six; and ten grandchildren.
She doesn't know how to read the time; so she cannot be blamed for coming late. The employer has to keep guessing every day whether she will come or not.
Morning walks in the park depend on Bai's grace. If she is absent then an extra hour spent doing household chores. Even by taking a sympathetic line, it is not possible to gain the favour of the housemaid. When one employee told the housemaid about her health problems, which will aggravate on doing a lot of Physical work. Pat came the reply, "Even I have the same problem".
Unique description of a housemaid
Most of the housemaids have the same story to share.
Married too young, between 9 and 13 years of age.
One says she was too young to remember her wedding.
They grew up illiterate and without watching television.
They had the first exposure of the outer world after marriage, and now they are the primary breadwinners of the family.
Their husbands help them in taking care of the children.
Cooking up stories
One housemaid has a toddler, and she cooks food for her family before leaving to work in eight houses. When asked how she manages to stay away from home for the whole day leaving small kids at home, she said, "Let the house go to hell, when at work I've to concentrate on my work". In addition, she has a joint family comprising her husband's family member and her bigger children who help her with the delegation of work at home.
Her attitude and work strategy are what every working woman should adopt. She has the right kind of career-oriented perspective which can be a yardstick for every woman professional.