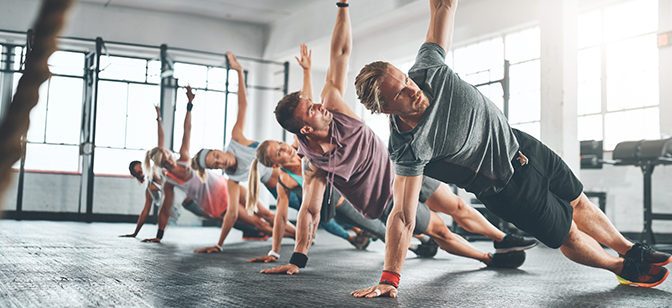 8 Fitness trends in the United Kingdom in 2018
Read Time:
7 Minute, 3 Second
While living in such a fast-paced world Fitness trends can be really hard to be up to date. New research is being done every day putting pressure on all of us to stay in the loop.
It is not so different in the fitness world. New training routines and methods are introduced every month. So today I'm going to talk about fitness trends in the UK in 2018 and hopefully give you a better idea of what might be suitable for you as an individual rather than a mass user.
Ballet Fitness
Ballet fitness is a unique fitness class to improve your grace, posture and fitness level. Classical ballet moves incorporated in challenging fitness routine. Which helps to connect your body and mind as well as challenge your physical ability. Ballet classes usually combine Ballet, Stretching and Pilates. Some classes can be very fast paced while others are slower. Also, some classes offer more technical ballet while others concentrate on fitness with just a few ballet elements.
I would highly recommend you to do very good research beforehand. Having a ballet fitness class in your routine once a week can really improve your flexibility and even confidence!
Small Group Training Studios
While for the past couple of years a big hit was low bugged big gyms, this year the new hit is small fitness studios for classes exclusive.
City centres, as well as suburbs, are full of small studios for classes. The range for these studios can be really wide. From cycling or circuit training to pilates, yoga, dancing or even meditation. The place usually comprises a very small space which can accommodate a max. of 20 people, creating a secure and exclusive place for training. They usually have a fixed timetable and quite a strict booking system. Prices can vary from £20 to £30 per session. As many studios are opening at the moment, every studio is trying to be as exclusive as possible, offering unique classes which are great for the user.
Hiit
Yes, HIIT training is still very big in the UK!
What is it?  High-intensity interval training is one of the most popular training styles to lose fat. HIIT trend started back in 2014 and now it is so popular that almost every gym offers a class.
HIIT class includes very fast pace followed by slow pace interval. These classes are very popular at lunchtimes as they usually last only for about 20-30 minutes. I usually incorporate HIIT Style in my workouts. And most of my clients find it the hardest part of the workout!
Fitness Trackers
It all started with £2 pedometers and progressed to £10000 diamond encrusted iWatches!
Wearable technology got extremely popular this year in the UK. Probably every other person has got one. It comes in different sizes, colours, shapes and technical profiles.
British people are obsessed with sharing their progress with friends as well as challenging each other. This is a great way to be fit and motivated. Some bands or watches will send you a reminder if you have been sitting for too long. I always recommend my clients to get one to stay on top of their fitness.
Races
While obesity alarm rises really high, the UK is trying to fight this really hard! This year, particularly, it has been really active regarding races. Charities, companies, schools, universities, associations and communities are pulling themselves together and organizing group events. From 3km walks to triathlons, we've been busy! Being a part of a running club or getting ready for a fitness event is now extremely popular. It's so much easier to get motivated when you are in a group with others. People are encouraged to also involve their family and friends. Even sedentary people are trying to get involved.
Why not start with something along the lines of a 2k walk for your favourite charity? Doing things for a particular purpose really motivates people. Personally, I love this new trend.
Personal Training
As a personal trainer in the UK, I've learnt quite a few things throughout the last years. I can confidently say that fitness and exercising have become a really big trend in the recent years. With so much information available online people sort of became confused and started seeking professional help and advise.
Personal training is really big at the moment in the UK. You can hire a personal trainer to come to your home or any desired location including parks and squares. Some PTs do not train outdoors or do not travel – they have a base where they work from, like an exclusive personal training studio or a simple public gym.
Personal training is a luxury service and can be very pricey. Making sure that you have the right trainer is very important! My advice is that you do your research and go through a couple of consultations before signing up.
The 24h Gym
You might be wondering who would be going to the gym at night… You might actually be surprised!
The 24hour gym can get very busy during the night hours. Many night goers are students as well as shift workers. When for some people it seems like madness to train in the middle of the night, for others this is the only way they can fit in a workout within their busy schedules. You should be aware that most 24h gyms are unsupervised during the night and for security reasons changing rooms might be locked.
Unfortunately, there are no classes available during the night and I'm not sure if there are any PTs who would be willing to work at night. You might want to make sure that you have a workout plan in place. You can easily find a 24h gym near you. They are very popular in suburban areas within cities.
Online Training
 The growing popularity of social media has had a huge impact regarding online training and its development. A lot of personal trainers and coaches are calling themselves 'influencers' and 'online couches'. Online personal training is very 'price-efficient' but it comes with its cons too.
Usually, online personal training means that the trainer is sending you a monthly programme, which means no face-to-face training. Do you really have to rely on your own expertise for correct posture whilst performing exercises?
Some trainers offer nutrition supervision along with the exercises. Doing good research is highly recommended here. Not all online trainers actually hold a fitness qualification. Some of them have just been training for years themselves and therefore think that they can also train others.
Be very careful and make sure your online coach not only looks good but do actually know what they're talking about. Ideally, they would have fitness qualifications, talk to them and ask them where do they get their knowledge from. You want to make sure you're in the hands of a professional when it comes to training and your health.
Conclusion
So many fitness trends around might leave you feeling confused… You might want to know where to start, so I'll give you very simple but helpful advice.
Experiment and find what works for you in terms of your body and mind. Some people might like classes because it feels like working as part of a team. Others prefer personal training because they're working on a one-to-one basis. Endurance training or HIIT training can be a good mixture to start with if you like cardiovascular activities.
A lot of my clients now want to concentrate on the way they move as well as getting rid of pains and aches. If you can feel that your posture is not correct or you're having chronic pain then it might be good to start with some mobility work.
Sometimes not being part of the trend is also a good thing. As long as you can find what suits you, you should not feel the need to follow something just because it is popular!
[plain]
About Justina
Justina Triasovaite is a certified female personal trainer in London and also runs justinatraining.com, a site with useful information for those who are interested in general fitness and body transformation. A committed health and fitness fanatic, Justina is very passionate about helping people transform their lives. [/plain]
The content is the views of the author. Does not repesent the perspective of Lifestyletodaynews.com