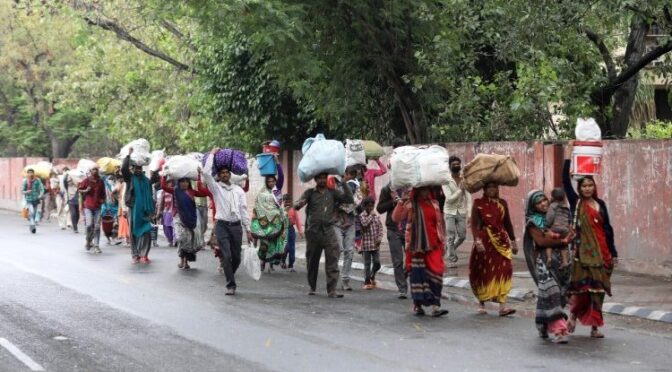 Migrant workers are not beggars
Read Time:
4 Minute, 44 Second
"Your salary and my monthly earnings are almost the same Mam" Kumar said. As usual I was travelling by chartered bus with my colleagues. And Kumar was incessantly bragging about his rags to riches story. Kumar was the driver of the chartered bus ferrying us from office to home. He was in Delhi for over a decade and now he owned a house and a car which he used as a taxi. He always hinted that he was financially well off than us, the educated class.
Success stories like Kumar's inspires millions of youngsters from villages to folk to cities to earn their livelihood and eventually fulfil their dreams. The dream of a migrant worker to the cities in India varies from sending some money back home, building a Pucca house in the village, giving good education to kids and to move up the ladder of the society from poor to middle class lifestyle.
A decade ago, while traveling to office, I could see truckloads of families setting foot to the City. With dreams in their eyes, hope and happiness, tiredness of the tedious journey hardly mattered.
The winter mornings were filled with picturesque scenes of mothers preparing rotis on makeshift chulha (Oven) and children sitting around enjoying the warmth of the fire. The smell and smoke of the cooking and huddling of the little ones gave the impression of a village in a city.
Their makeshift shanties were insecure. I asked my friend "why don't these men come alone, why do they bring their women and children to this unsafe City?" She said "Just like our fathers brought our mothers and us when they migrated to cities, these men also want to be with their family".
We forget that we are all migrant workerss to the City. Every city dweller is a migrant worker. We are glorified migrants. Two decades, four decades, maybe hundred years ago families came in search of greener pastures and found a firm footing.
Education is what differentiates the glorified migrants from the modern migrant workers in India. According to reports a majority of the migrant workers in the past 10 years are uneducated. Leave alone education, they cannot even read and write.
Take the example of my maid. She is from a landowning family in her village. There is an air of dignity around her. She and her husband came to this city 30 years ago and now their family consist of 30 members including children, daughters in law and grandchildren. She does not believe is giving schooling for children because she says there will be no dearth of menial jobs in the city. Madams and Sirs in Kothis (bungalows) cannot survive without a train of helpers in the form of drivers, maids, gardeners and so on for which education is not required.
She will prepare dozens of rotis and aloo sabji (potato curry), in the morning, and leave for work. Children will have the rotis until it is over and then they survive on langar, food from the house of employees and Maggi. Take a survey and probably the migrant workers might be the largest customer base of Maggi. Roti and Kapada (food and cloth) they get in plenty from the employees.
What clothing and food to accept was a matter of choice. It was my maid who told me that the bread that I bought mistakenly for wheat bread was actually ginger bread. She knows because one of her other employees buys ginger bread regularly. The migrant workers have got an exposure the sophisticated city lifestyle, that the middle will never get to experience. An office boy once said that if you want an imported winter jacket go and stand shivering on the roadside of Lajpat Nagar. Some rich man will come and give you a Jacket.
Never in their wildest dream did they dream that corona will create a great barrier between them and their employees. The overflow of food items from the employees came to a grinding halt. The migrant workers suddenly realized that they are the have nots. Suddenly the were flushed out of their rented homes like the cockroaches are eliminated with hit spray.
They knew they have something which the we have not. They are land owners back home. Now whenever the migrant workers are interviewed about the food that they got they will say that 'we are treated like beggars'. Migrant worker got a dignity. If we got an apartment in the city, they got a piece of land in their village. They expect to be treated with dignity.
One reason that only 30,000 migrant workerss returned from Kerala and 2 million are still staying is because of the food. The migrant workers were given food of their choice.
For the migrant workers who are walking towards their homes or those who are travelling by buses or trains, we must be sensitive towards what food we offer them. Give them food that can stay fresh for 3 or 4 days, like lemon rice, masala poori, and pickle. They can be given some energy bars instead of Parle G biscuits. The taste of the energy bar should be favourable to them. It is not what you give, but how you give that matters. Instead of using the situation as a photo op or as an opportunity for charity, support them as a friend or brother.
Let them walk, we cannot stop them from walking. We can help them by making their walks comfortable. Offering them the right kind of food, foot wear and clothing. Just like The Mahatma and the Buddha they are walking towards enlightenment and freedom.