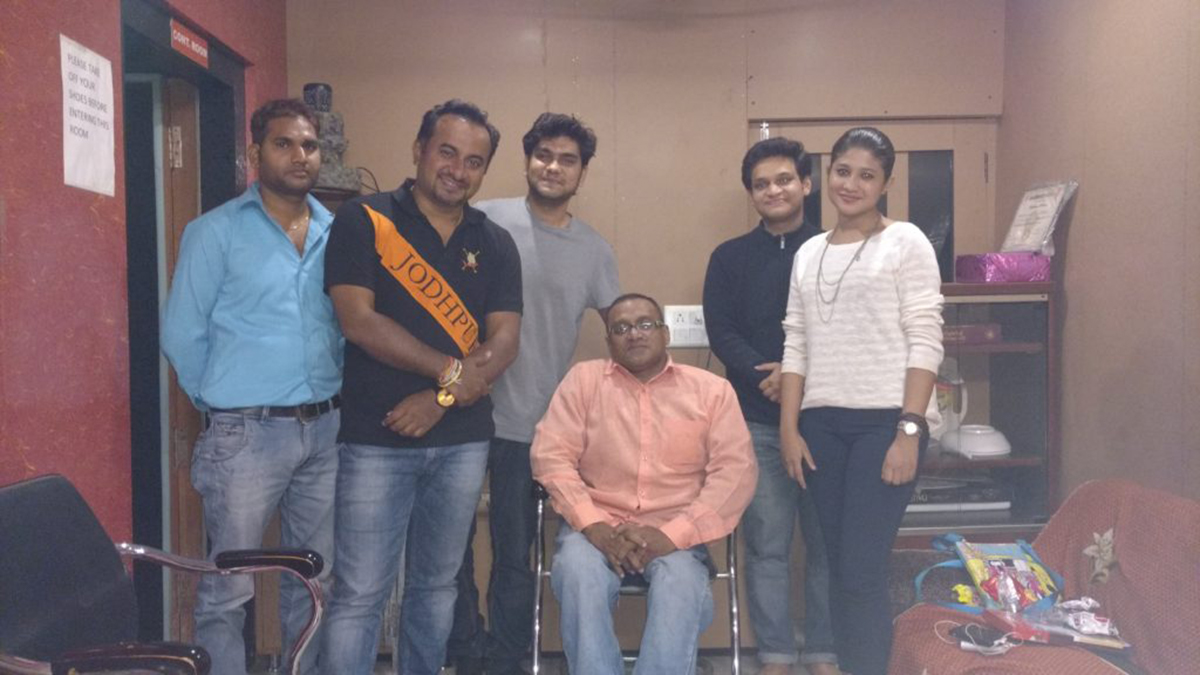 Sajeev Sarathie: This Keralite is a well-known Hindi Lyricist, Poet and Writer
Read Time:
6 Minute, 54 Second
He speaks such scholarly Hindi, that you will never imagine that Sajeev Sarathie was born to Malayalee parents in Kerala. He grew up in Delhi from the age of four and he became more familiar with Hindi than Malayalam. Now he is a connoisseur of Hindi Language and Literature.
He has carved a niche for himself as a Hindi Poet, Writer and Lyricist, much-loved writer the Hindi media to write of Hindi songs, poems and screenplays. Does tremendous teamwork to promote unknown talents. Also he is part of radioplaybackindia.com a leading Hindi blog in podcasting, worked with Late President Honourable DrAPJ Abdul Kalam. Also wrote songs for Honourable Prime Minister Narendra Modi's Beti Bachao, Beti Bachao movement.  After the release of his latest song Bekhud, I had a voice interview with Sajeev.
1.     Tell us something about the latest song Bekhud?
Bekhud is my latest single, it is a romantic song which has an Arabic feel to it, Composed by very talented Krishnaraj and beautifully rendered by International pop sensation Biswajit Nanda along with super singer Hema Sardesai who need no introduction at all, the voice behind songs like Awara Bhanvare, Badal pe paun hai and many more Bollywood hits. She worked with the likes of ARR, Salim Suleimaan, Anu Malik etc, she is indeed a living legend, and we are fortunate to have her voice for the duet…
2.     Tell us about your life as a songwriter?
I am writing lyrics for the last 10 years collaborating virtually with many national and international composers and singers. Since most of them are placed in different cities of the world, we connect through the internet. And do a lot of online jamming to create music. I started with an online platform called "Hind Yugm". In 2008 released our very first and literally a zero budget album called "Pahla Sur". It had 9 songs, all done through our online jamming process.
Album for world book fair
It was an experimental album released in the World Book Fair and became the second largest sold product of the event. 6 songs in this album were written by me and the kind of response I got really pushed me to go further and to take new challenges in this field.  After that, I produced two more unique albums called "kaavyanaad" and "Suno Kahani". In Kavyanaad, we gave an opportunity to new generation music composers to compose great work of legends of Hindi Literature like Nirala, Pant, Jaishankar Prasad, Mahadevi Verma and more. While in Suno Kahani we compiled 15 stories of the great Munshi Premchand in an album.
Another album of mine, "Beat of Indian Youth" which has 13 songs in 9 different Indian languages was released in 2013. This unique feature of this album has 13 songs in 9 different languages on one single theme saw it enter into The Limca Book of Records. Though I penned lyrics only for 3 songs, this album gave me the honour to share the lyrical space with our National icon and Ex-President Late Dr A P J Abdul Kalam Ji in the song "Hindustan".
One of my song from Pehla Sur, "Baat yeh kya hai jo" was recreated and featured in the movie Dam999, which was released in the year 2011.
Apart from my 96 singles which have been released so far, I have also penned for various initiatives/ movements by our Govt or other institutions. For example, one of my song "Druzba" was featured in Indo-Russian Friendship festival in Moscow. In 2015, I wrote a song for the "Beti Bachao, Beti Padhao" movement started by our Honourable Prime Minister Shri Modi Ji. "Hindi Meri Awaaz Hai", one of my poems is part of the 10th standard curriculum in Maharashtra.
An anthology of poems, "Ek Pal Ki Umr Le Kar" has been published by Heavenly Baby Books.
Apart from lyrics I have also written a lot of screenplays for various production houses. So, overall it has been a very satisfying journey so far.
 4.     You are from Kerala, then how did you get interested in Hindi poems and songs?
 Yes, I was born in Kerala and while I was 4 we shifted to Delhi. So, both the places are a part of my childhood. My schooling began in Hindi medium while at home we communicated in Malayalam. However since all my friends spoke Hindi, so probably that's why Hindi became the dominating medium for me to express myself.
 5.     You are doing tremendous work online for promoting unknown singers and songwriters,  Tell us something about your online web radio radioplaybackindia.com?
 Well, radioplaybackindia is doing very well and is a leading Hindi blog in podcasting. We promote original songs, involving amateur artists. We have a weekly programme called "Bolti Kahaniya" through which we podcast Hindi stories and is a huge hit among our audience. The blog is rich in information on Indian Classical music, Film and Non-Film music.
I host a programme called, "Ek Mulakat Zaruri Hai" which recently completed 50 episodes, featuring several famous Bollywood artists like Shubha Mudgal, Amit Khanna, Ritu Pathak, Shriram Ayyar, Ibrahim Ashq and many more.
There is another programme I host, "Geet Ateet" which takes the audience into an unknown or lesser known story behind the song; using some artist associated with that song.
Programmes like "Old is Gold", "Mehfil-e-Ghazal", ""Podcast Kavi Sammelan" etc are big hits of our channel.
I am one of the 6 founding members of the channel and though I have been given the honour of being Chief Editor; but to tell the truth I have not been able to devote much time to radioplaybackindia.
 6.     Your songs are different from the Bollywood film music or mainstream albums. Your songs have the nostalgia of the yesteryears. Do you have a huge fan following for your kind of songs and music?
 Of course, there is a huge audience for my kind of lyrics. Actually, I got a little surprised by your query on following for different style of lyrics and music. As a matter of fact, I am open to all form of music. Old, new, Indie, western…for me music is music and it's my way to connect with the God almighty.
 7.     You were affected by polio from the age of one, Has the disability been a hindrance or an inspiration for your successful career in Hindi literature?
 We all have weakness and shortcomings, as no one is perfect in this world. Life. I would say that God has been kind that my disability is only at a physical level and I am very well aware of that; otherwise many people don't even get to know what their weakness is and therefore find it difficult to move ahead in life.
As a matter of fact, now I don't even consciously think of it until someone points it out. I think, when people talk about my progress despite my physical disability, I feel God is presenting me as an example for many others who have no physical disability; that they can achieve so much more in life if they only follow their passion with dedication.
 8.     Tell us something about your family and those who are behind your success?
 My parents always supported me. I have an understanding wife and two beautiful and gifted children. All of them have contributed immensely in more than one way in all that I have achieved so far.
Apart from my family, I got strong support from my friends. I am really blessed to have such nice friends. And above all, its God, my best friend; who is always holding my hand.
 9.     Please recite one of your poem for us?
 Sure….this poem is titled "punar-janm" which means 'Rebirth'
sangsaari kii had se pare,
Duniya kii jadd se door,
wo jiddi paak bedaag sa khwaab,
Dekha tha use jaate,
shaam ke dhundhalke men,
Doobte sooraj ke paar,
jahan samunder toot ke girta hai,
Kisi Anjaan si khala men…
Fir se lautne ko kabhi,
Kinhin a-janmi aankhon men….
10.            Have your written in English or any other language?
 No, I think I am not that versatile. So, for me, one language is sufficient for this life.