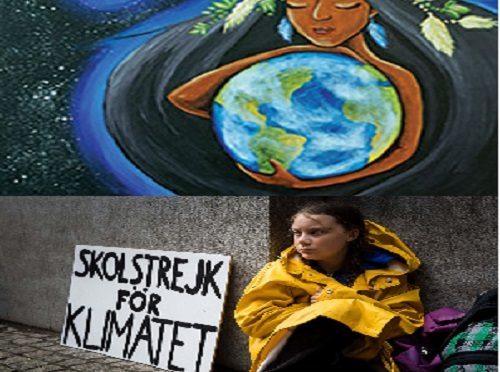 On this Mothers day a few words about Mother Earth and her precious kid Greta Thunberg
Read Time:
2 Minute, 58 Second
Today the most vulnerable mother on earth is Mother Earth herself. She has been exploited beyond repair, and if we do not pay heed to her distress signal, then another mass extinction is not far away. On this mother's day we need to act on her behalf and that too on a war footing.
Natural calamities are common and weather changes are unpredictable. Wild fires, thunderstorms and flood are occurring on an unprecedented scale and causing mass destruction. We talk and write a lot about curbing climate change and about recycling, reusing and reducing. We talk a lot about reducing carbon footprints. But we take little action.
Mother Earth knows about our indifference to the critical issue, so she sent a kid. A Girl who speaks like no one else does and makes every adult and kid sit up, and not just listens, but take action.
Greta Thunberg, a 16-year-old girl, from Sweden, has become a global celebrity among the kids when she decided to school strike for climate change. In November 2018, she decided to bunk school and protest every Friday in front of the Swedish parliament so that action is taken to combat climate change. She wants the Swedish Government to reduce the Carbon Emission as per the Paris Agreement.
Greta is a special child. At the age of 11, she was diagnosed with Asperger syndrome, Obsessive Compulsive Disorder (OCD) and selective mutism. And because of her condition, she speaks only when she needs to and she can see everything black and white. Experts say that since she is on the Autism spectrum she is obsessive and quite blunt on her views.
Greta knows the data of climate change by heart. She analysis and views the future crisis is a way that climate activists have never done so far.
She is from an illustrious family. Her grandfather and father are famous actors and mother a famous opera singer. She began her activism at home first. She made her family become vegan because having meat increases carbon footprints. She told her father that owning two homes increased carbon footprints. She made her family travel on foot or bicycle.
She avoids flights because air travel is the major cause of carbon footprints. Greta declined to receive an award because she had to board a flight to attend the award function. Her mother gave up her illustrious career because she had to travel frequently by flights.
Gretas strikes for climate change inspired children the world over. In December 2018, 20,000 children went on strike in 270 cities. Her action has made politicians say that kids have begun to protest because adults fail to respond to the dramatic changes in the climate. Her logic for evading classes for the cause in simple. She says that what is the use for the kids to study for a future which is not there unless action is taken to reduce carbon footprints drastically.
She says we have already exhausted the carbon footprints by 1987. Our budget on earth is over. We need to act fast. All the talks and studies have been done in plenty. What is now need is action.
Thousands of species are getting extinct each year because of climate change. We need to curb our Carbon footprints and take action to bring our Mother Earth back to life.
On this Mother Day we need to have more Greta's to protect Mother Earth and all the Flora and Fauna.
Happy Mothers Day