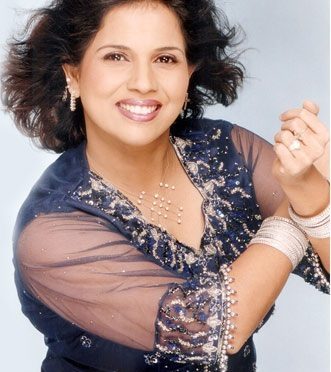 Hema Sardesai: A woman playback singer with over 60 superhit Bollywood songs
Many a time we know a melodious movie song by heart, but we do not know who sang the song. We watch a lot of Bollywood movies, and all we recognise are the actors. Most of the time we do not know who the singers or the directors of the movie. There is a saying that a picture is worth a thousand words. We remember the actors we see, but do not remember the singers we hear.
Thanks to social media and Google, I discovered recently that many of the famous songs that we often keep humming were sung by Hema Sardesai. She has sung over 60 Bollywood songs and all of them were super hits. For instance Badal pe hai from Chak De India and Awara Bhanware an A R Rehman song.
She has got the rare accomplishment of singing the duet with top Bollywood superstars like Amitabh Bachchan, Shahrukh Khan, Govinda and Salman Khan. One of the five songs she sang with Amitabh Bachchan is Chali Chali in Baghban. This years women's day post is dedicated to Hema Sardesai because apart from being a prolific playback singer, she is also involved in many social causes like women empowerment and the Girl Child.
In 2017, She gave an audio interview for the Radio Playback India program Ek Mulakat Zaruri Hai. Here is an excerpt from the interview with Sajeev Sarathie:
How was the early stage of your singing career?
Those who work with principles and values will face difficulty in achieving anything in life. I consider my music a gift of God, and so I do not let any harm to happen to that gift. Besides, I believe in giving high status to women. Like in any other industry in the world some people see women as a sex object, and that happened with me also.
Whatever I achieved is because God wished that I achieved that in life. I have a lot in the industry. Initially, I walked out of every studio. I wanted my voice to reach everyone by doing what was righteous before God. Because God was with me, I could achieve something. I got the opportunity to sing with great singers like Sonu Nigam, Kuma Sanu, Shaan and Udit Narayanan. And by God's grace, the more than 60 songs I have sung are all super hits.
What is the secret behind your Bubbly posture?
I give credit to my smiling face and energetic song performances to the blessings of my Guru Ravi Shankar.
How was you experience working with the music directors?
All of them know my mind. They knew that I will work only if I got respect. So wherever I went, I got respect.
Hema Sardesai made her American debut with an International single in English 'Power of Love'.On this Women's Day we wish her all the best for her future endeavours in Bollywood and Hollywood.
Thanks to Sajeev Sarathi for permitting to use the complete interview for this blog post.